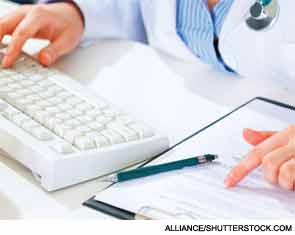 Physicians must ensure that their information is responsibly reported by other parties, as well as learn to use data themselves for improving their practices and remaining relevant in the changing healthcare marketplace.
Explore This Issue
July 2013
Also By This Author
Register Today
The ACR's practice management course was beneficial to me as a practice administrator. The sessions provided tools that we implemented for our front desk registration, improving cash flow and effective practice marketing strategies.—Carla Parris, practice administrator in Atlanta, Ga., after attending the ACR/ARHP 2012 Annual Meeting practice management sessions
ADVERTISEMENT
SCROLL TO CONTINUE
Register for the Practice Management PreMeeting Course at www.acrannualmeeting.org by August 30 and save! For questions or additional information, contact Cindy Gutierrez, MBA, senior specialist in practice management at (404) 633-3777, ext. 310, or cgutierrez@rheumatology.org.
An important aspect of managing an effective, efficient rheumatology practice is staying abreast of new and evolving practice management trends. The healthcare environment will continue to experience constant change. Payment models, audits, ICD-10, and measuring performance are only a few of the many areas requiring focus, research, and implementation strategies from an administration perspective. More important, we must examine the costs associated with implementing these changes and the impact they have on liability and revenue to the practice. Physicians, administrators, and staff must embrace the challenges and broaden their knowledge to thrive in a healthcare environment that is transforming before our eyes.
ADVERTISEMENT
SCROLL TO CONTINUE
The ACR Committee on Rheumatologic Care (CORC) has researched industry trends and is offering a variety of stimulating courses to help you to stay up to date with these changes. These learning opportunities include a premeeting practice management course, premeeting rheumatology coding course, and more in-depth practice sessions scheduled throughout the ACR/ARHP Annual Meeting to be held in San Diego October 25–30.
"It's not enough for rheumatologists and administrators to focus solely on medical issues," says Douglas White, MD, CORC liaison to the ACR Annual Meeting Planning Committee. "With the spotlight on cost containment and more effective delivery of services, rheumatologists need to understand all that is happening today and how it will affect their practice tomorrow." Dr. White states that the ACR practice management sessions will help physicians understand how to better manage their practices in a way that complies with developing requirements.
In May 2012, the Department of Health and Human Services Office of Inspector General (OIG) released a report titled, "Coding Trends of Evaluation and Management Services," in an effort to make the healthcare community aware of the cost increase to render these services.¹ The report indicated that evaluation and management payments from Medicare increased 48% between 2001 and 2010, while other Part B service payments increased only 43%. The OIG forwarded their findings to the Centers for Medicare and Medicaid Services (CMS) with a recommendation to increase educational outreach to physicians on specific areas such as policies, rules, and regulations. As another key portion of the report states, "Physicians must ensure that their information is responsibly reported by other parties, as well as learn to use data themselves for improving their practices and remaining relevant in the changing healthcare marketplace. It is critical that physicians begin to review and understand their claims and other data to: 1) reduce healthcare costs by eliminating the currently inexplicable variation in treatment patterns; 2) ensure that their publicly reported practice profiles are accurate; 3) improve the quality and efficiency of their practices; and 4) prepare themselves for the new budget-based payment models that depend on the variation between projected and actual use, and cost of resources, rather than on maximizing volume of services."1