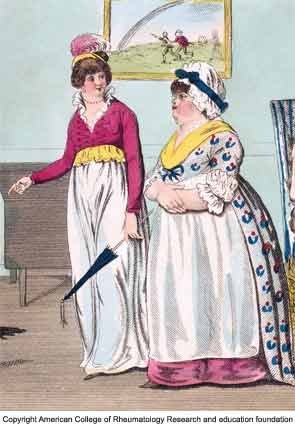 The 2012 Rodnan Gout Print is "An Experiment, or an Old Fool and a Young Raven."
The ACR's first guidelines for management of gout, published this fall, can serve as a road map for clinicians, with guidance on treatment decisions based on nine different case scenarios. The guidelines are in two parts: Part I on systematic nonpharmacologic and pharmacologic therapy of hyperuricemia, and Part II on therapy and antiinflammatory prophylaxis of acute gouty arthritis.
A major motivation for the guidelines was recognition that gout, one of the most common rheumatic diseases in adulthood, is often inadequately treated. Even though understanding of the molecular basis of hyperuricemia and gouty inflammation has advanced, gaps in the quality of care remain, and patient education about the condition and adherence with therapy are often inadequate. In addition, clinicians have questions about new pharmacologic options for uric acid-lowering therapy and for acute attacks.
"The guidelines were designed to be useful for both primary care physicians and for rheumatologists, as well as something that would be internationally useful and relevant," says Robert Terkeltaub, MD, who oversaw the construction of the case scenarios and voting questions for the task force panel involved in creating the guidelines. "With publication of these guidelines, we hope that people will realize that gout is important and that there is a lot to learn about a condition that affects about 3.9% of the U.S. adult population," says Dr. Terkeltaub, VA rheumatology section chief and interim chief of the division of rheumatology, allergy, and immunology at the University of California, San Diego.