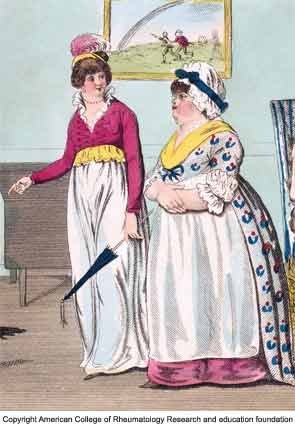 The 2012 Rodnan Gout Print is "An Experiment, or an Old Fool and a Young Raven."
The ACR's first guidelines for management of gout, published this fall, can serve as a road map for clinicians, with guidance on treatment decisions based on nine different case scenarios. The guidelines are in two parts: Part I on systematic nonpharmacologic and pharmacologic therapy of hyperuricemia, and Part II on therapy and antiinflammatory prophylaxis of acute gouty arthritis.
You Might Also Like
Explore This Issue
October 2012
Also By This Author
A major motivation for the guidelines was recognition that gout, one of the most common rheumatic diseases in adulthood, is often inadequately treated. Even though understanding of the molecular basis of hyperuricemia and gouty inflammation has advanced, gaps in the quality of care remain, and patient education about the condition and adherence with therapy are often inadequate. In addition, clinicians have questions about new pharmacologic options for uric acid-lowering therapy and for acute attacks.
ADVERTISEMENT
SCROLL TO CONTINUE
"The guidelines were designed to be useful for both primary care physicians and for rheumatologists, as well as something that would be internationally useful and relevant," says Robert Terkeltaub, MD, who oversaw the construction of the case scenarios and voting questions for the task force panel involved in creating the guidelines. "With publication of these guidelines, we hope that people will realize that gout is important and that there is a lot to learn about a condition that affects about 3.9% of the U.S. adult population," says Dr. Terkeltaub, VA rheumatology section chief and interim chief of the division of rheumatology, allergy, and immunology at the University of California, San Diego.
John Fitzgerald, MD, PhD, principal investigator on the guidelines project and associate clinical professor of medicine in the division of rheumatology at the University of California, Los Angeles (UCLA), agrees. "There is clearly an undertreatment of gout, even though gout can be very manageable and the damage associated with it preventable with appropriate management. There are, however, a lot of patients who go on to a very destructive arthritis that has significant impacts on their quality of life that a more aggressive approach to gout could prevent."
ADVERTISEMENT
SCROLL TO CONTINUE
The guidelines were developed using RAND/UCLA methodology, a process led by Dinesh Khanna, MD, associate professor of medicine and Marvin and Betty Danto Professor in Connective Tissue Diseases, and by Puja Khanna, MD, assistant professor of medicine. Both are at the University of Michigan in Ann Arbor. According to Dr. Dinesh Khanna, the guidelines are not intended for patients with asymptomatic hyperuricemia.
Although the guidelines address treatment options, they were not designed and are not intended to affect decisions about insurance coverage, Dr. Fitzgerald adds. "Our hope is that the recommendations will be used at the doctor–patient interaction level."
Pharmacologic and Nonpharmacologic Approaches
Part I of the guidelines focuses on nonpharmacologic and pharmacologic therapy of hyperuricemia associated with gout. The recommendations are built around three distinct treatment groups, each subdivided into three case scenarios that represent clinically based decision making. These nine case scenarios are delineated by symptom severity, the number of joints involved, the size of the joints, the uric acid burden, and the severity of joint destruction.
ADVERTISEMENT
SCROLL TO CONTINUE
Cases 1 through 3 include the treatment group with intermittent attacks of acute gout but no tophi on physical exam, further subdivided into the frequency of acute gouty episodes of either moderate to severe pain. Cases 4 through 6 include scenarios of gout associated with clinically apparent high body urate burden. These cases have one or more tophi and intermittently symptomatic gouty arthritis. Cases 7 through 9 represent scenarios of chronic tophaceous gouty arthropathy, which differ by the extent and characteristics of tophi and chronic arthropathy, with variable inflammatory and deforming features that can be detected by physical examination.
Recommendations are given for specific dosing regimens and escalation of pharmacologic urate-lowering therapies for each of the case scenarios, beginning with a first-line xanthine oxidase inhibitor (XOI). The treat-to-target serum urate level recommended is fewer than 6 mg/dL at a minimum, according to Dr. Puja Khanna, with lowering serum urate to fewer than 5 mg/dL needed for improvement in signs and symptoms in some patients, especially to promote more rapid lowering of total body uric acid burden.
Physicians should consider causes of hyperuricemia for all patients, according to the guidelines, including evaluating the agents and conditions that could lead to either underexcretion or overproduction. "We see gout as a biomarker, essentially, of people having serious metabolic and cardiovascular diseases," Dr. Terkeltaub says. "We point out that the caregiver should have a basket of things to think about when the gout patient limps or walks into their office."
This "basket" of concerns includes not only comorbidities but also diet and lifestyle issues, with recommendations given for avoiding organ meats, beverages and foods with high fructose corn syrup, and overuse of alcohol (especially beer); limiting serving sizes of meats, seafood, table sugar, and salt; and encouraging consumption of vegetables and lowfat or nonfat dairy products.
Educating patients about their disease and the lifestyle changes needed is vital. "Patients need to recognize that gout is caused by a body excess of uric acid and that targeting this problem with nonpharmacologic and in many cases pharmacologic urate-lowering therapy is the only approach that will have a 'curative' impact on their condition," Dr. Terkeltaub says.
Other Recommendations in Part I
Recommendations are given regarding the starting dose of allopurinol. This starting dose should not exceed 100 mg per day; an even lower dose than that can be used in patients with moderate to severe chronic kidney disease. Gradual upward titration of the maintenance dose can exceed 300 mg daily.
If the serum urate target is not achieved with one XOI, combination therapy with one XOI and one uricosuric agent is appropriate.
Novel recommendations are included on pharmacogenetics for allopurinol risk management strategies.
Ultrasound can be helpful to identify subclinical findings of gout.
Acute Gouty Attacks: Part II
Part II of the guidelines, which focuses on therapy and antiinflammatory prophylaxis of acute gouty arthritis, highlights the need to treat an acute attack within 24 hours of onset and the importance of continuing urate-lowering therapy without interruption during an attack.
As in Part I of the guidelines, Part II also includes case scenarios. These are differentiated by the severity of acute gout based on self-reported worst pain on a 0–10 visual analog scale, with pain less than or equal to 4 considered mild, 5–6 considered moderate, and greater than or equal to 7 considered severe. The case scenarios are also further divided based on the duration of the acute gout attack (<12 hours after attack onset, 12 to 36 hours after onset, or >36 hours after attack onset), and the number and size of the involved joints.
Dr. Fitzgerald notes that the guidelines make clear that urate-lowering therapy can be initiated during an acute attack once the patient has been placed on appropriate antiinflammatory agents, such as nonsteroidal antiinflammatory drugs (NSAIDs), systemic corticosteroids, or oral colchicine. NSAIDs can be given at full dosing to treat acute pain and/or acute gout, and prednisone is recommended at a starting dose of at least 30 mg daily. According to the guidelines, oral colchicine is one of the appropriate options for treatment of acute gout, but only where symptom onset was no more than 36 hours prior to initiation of therapy.
Combination therapy is recommended as an option to consider, particularly when acute gout attack is characterized as severe pain in a polyarticular attack. Algorithms are included in the guidelines that recommend the sequence of therapies that should be used to treat an acute gouty attack, with both monotherapy and combination therapy options.
"We think the dosing recommendations may be surprising to some primary care practitioners, especially those who tend to use too little prednisone in managing acute attacks and who don't use it frequently," Dr. Terkeltaub says.
Pharmacologic treatment should be initiated within 24 hours after onset of symptoms of acute gout because earlier treatment may lead to better outcomes, such as improvement in signs and symptoms and increased productivity at work, with fewer sick days needed, Dr. Puja Khanna says.
Both low-dose daily oral colchicine and low-dose NSAIDs are considered appropriate for first-line therapy for acute gout prophylaxis, with appropriate consideration to concomitant comorbidities and potential drug–drug interactions, Dr. Dinesh Khanna says.
He stresses that urate-lowering therapy should not be discontinued during an acute gout attack, because the attack could worsen.
According to Dr. Fitzgerald, gout is often not treated as aggressively as it should be, and these specific recommendations could serve to remedy that problem. "There has been some complacency about gout therapy without any new drugs on the market over the past 30 years, until recently," he says. "Historically, with only a few choices, you put patients on those original drugs and in most cases it works. But if that therapy didn't work, you didn't have a lot of other choices. There are now more than one or two options, and there is something for fairly advanced chronic gouty arthritis patients as well. There are new drugs, but also important new ways of looking at the old drugs."
For the Future
Conducting the systematic review of the literature to develop the guidelines made clear the need for more research, particularly randomized controlled trials. According to Dr. Terkeltaub, more direct dietary intervention studies are needed, as well as more randomized controlled trials that compare one therapeutic approach to another, such as different urate-lowering treatments alone and in combination, and with more dose titration in order to "treat to target" than was done in past studies.
About 20% of the recommendations in the guidelines were ranked as Level A, meaning the recommendation was gleaned from more than one randomized clinical trial or meta-analyses, a factor that demonstrates the need for more rigorous research, Dr. Terkeltaub says.
One factor that clearly emerged from the literature review is that patients with gout are often not treated to target, Dr. Fitzgerald says. The hope is that the published guidelines will highlight the need to treat to the target serum uric acid level and the importance of treating gout more aggressively. Dr. Puja Khanna agrees: "It is important to identify patients earlier in the disease process to avoid long-term disability."
---
Kathy Holliman is a medical journalist based in New Jersey.