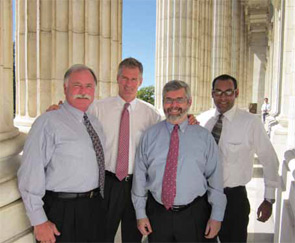 Pictured (left to right) are patient advocate Michael Taffe, Senator Scott Brown (R-MA), and ACR members Jonathan Kay, MD, and Will Harvey, MD, during a visit to Capitol Hill.
This year, key congressional committees that oversee healthcare have held hearings on the flawed Sustainable Growth Rate (SGR) formula and are discussing various payment reform options. The ACR has submitted testimony to the key committees encouraging Congress to:
You Might Also Like
Explore This Issue
September 2011
Also By This Author
Block the pending 29.4% cut to Medicare physician payments;
Discard the flawed SGR formula; and
Ensure access to cognitive specialists through adequate reimbursement for evaluation and management services.
As Congress continues to discuss payment reform, it is vital that lawmakers understand the role rheumatology plays in improved patient outcomes, care coordination, and cost savings.
ADVERTISEMENT
SCROLL TO CONTINUE
The ACR will be back on Capitol Hill September 19–20 for its annual Advocates for Arthritis fly-in. During this visit, 125 advocates will speak with lawmakers about physician payment reform and access to care.
Also, while at the fly-in, the ACR will launch its first public relations campaign: Simple Tasks. To learn more about this campaign, read "ACR Launches First Public Relations Campaign".
ADVERTISEMENT
SCROLL TO CONTINUE
Although 125 advocates is a good number of people to be on The Hill to discuss rheumatology issues, it will take the voice of all rheumatology professionals and patients to get Congress to act.
How Can You Help Strengthen the ACR's Message in Washington?
Write, call, or e-mail your legislators. As a constituent, your members of Congress are elected to represent you. Contact them frequently to let them know how you feel about important issues.
Schedule a meeting with your members of Congress in Washington or in their home district. Face-to-face meetings help build a relationship and show that you are a committed advocate.
Get your patients involved; they are constituents, too. Encourage them to call or write their members of Congress.
Ask your lawmakers to visit www.simpletasks.org to learn how they can support over 7 million Americans living with inflammatory rheumatic diseases.
The rheumatology community must stay united to ensure Congress considers the unique expertise of cognitive specialties when developing payment reform options. Reach out to your elected officials and make the voice of rheumatology heard. Please visit www.rheumatology.org/advocacy to contact your members of Congress or for more information.