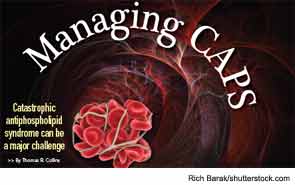 WASHINGTON, D.C.—Catastrophic antiphospholipid syndrome (CAPS) has all the makings of a physician's nightmare—it's hard to diagnose, it's hard to manage, and it can kill—so a team approach and quick action are essential in treating the disorder, an expert said during a clinical review titled, "Catastrophic Antiphospholipid Syndrome," here at the 2012 ACR/ARHP Annual Meeting, held November 9–14. [Editor's Note: This session was recorded and is available via ACR SessionSelect at www.rheumatology.org.]
The disease—which involves sudden clotting on multiple fronts—is rare, but "unfortunately, the mortality rate is still very high," said Doruk Erkan, MD, associate professor at Weill Cornell Medical College and associate physician-scientist at the Barbara Volcker Center for Women and Rheumatic Diseases, both in New York. A registry showed a short-term death rate of 33% for patients diagnosed between 2001 and 2005.
"This is a complex disease that requires a team approach," Dr. Erkan said. "There is no single physician in the world in my mind who can manage these patients alone. And the rheumatologist is a critical team member."
The Role of aPL
Understanding antiphospholipid syndrome (APS), he said, is essential to understanding CAPS. The updated Sapporo criteria for APS are at least one clinical event—either thrombois or pregnancy morbidity—and one positive antiphospholipid antibody (aPL) test.
He emphasized, though, that the clinical manifestations of aPL should be viewed as part of a spectrum; that thrombosis can be a product of several factors, not just aPL; and that not every positive aPL test result is clinically significant.
"We need to ask the question: Is this a clinically significant aPL profile? The answer is not yes or no," he said. "It's like reading an EKG. You need to look at several parameters," like persistent positivity.
The CAPS definition, then, is thrombosis in three or more organs, and these events must occur simultaneously or within a week. There must be confirmation of microthrombosis by biopsy and confirmation of persistent aPL.
If a patient has only three of the four, then the disorder is classified as probable CAPS. So, if a patient meets the other criteria but only two organs are involved, or if the other criteria are met but occur over the course of more than a week but less than a month, it's labeled probable CAPS. If the disorder can't be confirmed with a biopsy or persistent aPL is not confirmed, it's also classified as probable CAPS. The reason for this designation is "really to suspect the disease early and to treat the disease as soon as possible," Dr. Erkan said.