When I first read the request for advocates to fly in to Washington D.C., I was intrigued and curious. I've heard of visits to Capitol Hill to present important medical issues but was not really sure how the process worked. Politics can seem daunting and complicated, but I know it is necessary to get Congress on board to address medical care. I was excited to be accepted and ready to learn how to best help my patients in the political arena.
We spent one day learning how to lobby Congress, responsibilities of congressional staff, and received tips like "be on time," "be brief," and "provide personal stories." We were also given packets with ACR Issue Briefs. These included the five issues the ACR had identified as the most important for our day of advocacy and any associated House or Senate bill number. We met the other members of our team and received our schedules for the next day. My team consisted of two people: myself—a pediatric nurse practitioner—and a physician who treats adults with arthritis. We were scheduled for eight appointments.
ADVERTISEMENT
SCROLL TO CONTINUE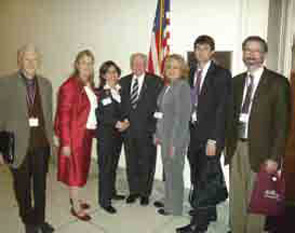 ACR and ARHP members and patient advocates thank Congressman Vernon Ehlers (R-MI; center) for his support of the Arthritis, Prevention, Control and Cure Act during the Advocates for Arthritis congressional visits.
Prior to attending Advocates for Arthritis in March, I supported the Arthritis Prevention, Control, and Cure Act of 2009 by writing my congressman and senator, but Advocates for Arthritis would provide the opportunity to talk face to face, and during those face-to-face meetings, I was especially aware of the need for more pediatric rheumatologists. There are fewer than 200 practicing in the U.S., and there are several states with no pediatric rheumatologists. Large numbers of pediatric rheumatology fellowship positions go unfilled each year. This act would provide training grants to universities supporting pediatric rheumatology programs and establish an education loan repayment program to create incentives for medical students to enter the field of pediatric rheumatology.
Advocates for Arthritis was created to engage ACR and ARHP members and patient advocates in political advocacy and increase awareness of rheumatology issues on Capitol Hill. The ACR staff did a great job of educating all of us and making us feel more confident. I was a little nervous as we approached our first appointment, but an ACR staff member accompanied us on the first two or three visits until we felt comfortable. As we met with members of congress or their staff throughout the day, I presented the pediatric issues, and the physician I was with presented the adult issues (such as changes to consultation codes and the sustainable growth rate [SGR]). All of these issues affect patients' access to healthcare.