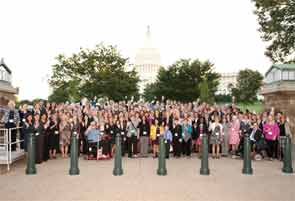 This year's Advocates for Arthritis participants are waving for World Arthritis Day in front of the Capitol building.
This year's Advocates for Arthritis conference, held September 10–11, was the ACR's largest and most success fly-in to date. More than 140 rheumatologists, rheumatology health professionals, and patient advocates representing 42 states and Puerto Rico convened in our nation's capital. Attendees met with more than 200 congressional offices to urge congressional support for patient access to rheumatology, patient access to treatment, and increased funding for medical research.
During the conference, ACR and ARHP members attended an educational session focused on the latest health policy and regulatory issues affecting the rheumatology community. Speakers included:
ADVERTISEMENT
SCROLL TO CONTINUE
Brett Baker, professional staff member, U.S. House Committee on Ways and Means; Charlene MacDonald, MPP, senior healthcare policy advisor, Office of Representative Allyson Schwartz; and John O'Shea, MD, senior health policy adviser, U.S. House Committee on Energy and Commerce, who collectively spoke about physician payment reform and how the rheumatology community can assist in moving forward from the current physician reimbursement system.
Jonathan Blum, director of the Center of Medicare and deputy administrator of the Centers for Medicare and Medicaid Services, who discussed the latest CMS initiatives to improve access, quality, and care coordination.
Bob Doherty, senior vice president, Governmental Affairs and Public Policy, American College of Physicians, who presented on recent developments with healthcare and delivery reform.
Jacob Reider, MD, chief medical officer, Office of the National Coordinator for Health Information Technology, who discussed the latest developments with Meaningful Use, E-prescribing, EHR implementation, and other HIT initiatives.
Members also heard from former Senator Tim Hutchinson and former Congressman Al Wynn of Dickstein Shapiro, LLC, about the current legislative climate and how the 2012 elections will impact health policy. During an advocacy training session, ACR and ARHP members were teamed up with patient advocates to prepare for their Hill visits the next day.
Advocates held a breakfast briefing with Congressman Michael Burgess, MD (R-TX), vice chair of the Energy and Commerce Health Subcommittee, on the morning of the Hill visits. Congressman Burgess was presented with an ACR Award for Public Leadership in Rheumatology due to his efforts on behalf of the rheumatology community. Senator Sherrod Brown (D-OH) was also presented with an ACR Award for Public Leadership in Rheumatology because of his dedication to funding a pediatric loan subspecialty program and to fighting unfair pricing structures for prescription drugs.