Ethiopia has a rich, variable and distinguished history and landscape. Located in the Horn of Africa, it shares borders with Eritrea, Djibouti, Somalia, Kenya, Sudan and South Sudan. Ethiopia has claim to the oldest humanoid fossils, named "Lucy," which were discovered in 1974 and are estimated to be 3.2 million years of age.1 The country's geographical landscape varies greatly and includes Ras Dashen, the highest peak measuring 14,927 feet, and Kobar Sink, a depression measuring 377 feet below sea level.1 The Blue Nile is believed to originate from a Spring near Lake Tana in northwest Ethiopia and travels west and north through Sudan, where it ultimately joins with the White Nile to form the Nile River.
The health resources available for individuals in Ethiopia are evolving. Currently, the population of Ethiopia is more than 96 million, and the average life expectancy is 54 and 57 years for men and women, respectively.2,3 The physician to population ratio has been estimated at 1:36,158, which compares to the United States ratio of approximately 1:417.4,5
ADVERTISEMENT
SCROLL TO CONTINUE
Physical Therapy in Ethiopia
Physical therapy (PT) is an emerging profession in Ethiopia and is contributing to the rehabilitation needs of the people of Ethiopia. The first formal program in physical therapy in Ethiopia started at the University of Gondar in 2006. More than 300 individuals have graduated with a bachelor's or master's degree from the University of Gondar. In addition, there is a Doctor of Physical Therapy program educating physical therapists in advanced academic and clinical skills at Addis Ababa University.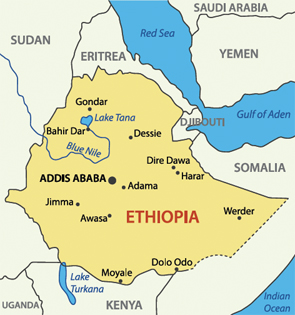 As an associate professor in the School of Physical Therapy at Regis University in Denver, I have had the opportunity to work with the physical therapists in Ethiopia, both as colleagues in the education of students, as well as an instructor, providing courses within the Addis Ababa University Doctor of Physical Therapy program.
ADVERTISEMENT
SCROLL TO CONTINUE
I have had the privilege of traveling to Ethiopia four times over the past six years. Regis University's Rueckert-Hartman College for Health Professions offers immersion programs for students in the health fields to collaborate with healthcare providers within and outside the United States. I served as a faculty mentor for three cohorts of Regis University's Doctor of Physical Therapy students during three of my visits to Ethiopia and as an instructor at Addis Ababa University's Doctor of Physical Therapy program for the additional visit. The time spent on these immersion experiences was heart warming, enlightening and engaging as we collaborated with medical professionals in the developing healthcare system.