The 2015 ACR/ARHP Annual Meeting in San Francisco, Nov. 6–10, is now over and was quite an event—our largest ever. The range of scientific and educational opportunities seemed overwhelming—as it always does—and none of us ever has the time to attend every session we want.
Of course, some of you stayed home with your practices and patients. And I want to take a few moments to provide a virtual guided tour of some of the wide range of advocacy sessions that took place at the meeting. Many of these sessions are available on SessionSelect.
On Sunday, Nov. 8, we had our annual Legislative Update session. I started the session with an overview of the problem of rising drug prices and our patients' inability to afford treatments. The session included an update on the ACR-drafted Patients' Access to Treatment Act (H.R. 1600), which would eliminate specialty tiers and replace them with a percentage-cost-sharing model. We have 95 co-sponsors for the bill in the House and have had a number of fruitful meetings to advance it over the next year.
We also had a wonderful speaker, Assemblyman David Chiu, who represents much of San Francisco in the California State Assembly. He spoke about a number of issues that need to be addressed in health care. He also provided details about a bill he has introduced in California that would require some transparency around how pharmaceutical manufacturers derive their pricing. He called on organized medicine to get into the debate about the rising cost of medications and told us that our voice was missing in the conversation in terms of how costs affect our ability to treat patients.
We ended Sunday's session with a brief review of other ACR advocacy activities, including our progress on dealing with unfair insurance practices, the shortages of pediatric subspecialists and the strong prospects for increased NIH funding.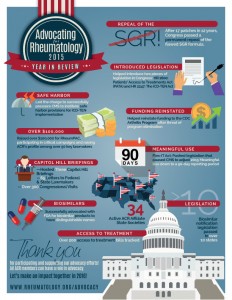 From SGR repeal to a safe harbor period for the implementation of ICD-10, ACR/ARHP members have made a huge difference on Capitol Hill and in local constituencies. You can view a handy infographic (right) showing everything our advocates have done in 2015.
Perhaps the most pressing part of the update was in relation to the Medicare Access and CHIP Reauthorization Act (MACRA), which replaced the failed SGR. As I have discussed in prior columns, many parts of this plan still need to be implemented by regulators, who have not always understood to a sufficient degree how their choices affect doctors and patients. We will be spending a large amount of time and resources engaging with regulators to proactively address our concerns. To this end, the ACR has contracted additional regulatory lobbying support.