Fear of Flying—This clinical anecdote appears regularly in my clinic. So much so that I believe it needs further study. A number of my APS patients, notably before treatment has been started, suffer badly from prolonged jet lag after a long-haul flight, with fatigue, headache and confusion, sometimes lasting for days.
Interestingly, once heparin or warfarin treatment is successfully commenced, this phenomenon disappears. Whether these symptoms relate to mild cerebral hypoxia second to slightly reduced cabin pressure is not known. Nevertheless, some of my patients with APS will supplement their aspirin treatment prior to a long-haul flight with an injection of LMW heparin. Although the placebo effect may be considerable, I am sufficiently impressed by the clinical experience of these (observant) patients to believe that the phenomenon of prolonged jet lag in many of our patients is very real.
ADVERTISEMENT
SCROLL TO CONTINUE
The Future—At the 14th International Congress on Antiphospholipid Antibodies held in Rio de Janeiro in 2013, I was asked for my predictions on the future of APS.23 In summary, I believe:
aPL testing will become worldwide and routine;
Over-the-counter aPL testing kits will become available;
A substantial subset of migraine sufferers will have new hope;
APS will become recognized as the major link between migraine and stroke;
Heart attacks in young women (especially those under 45) will be reduced;
Strokes in those under 45 will be reduced;
Some cases of accelerated arterial disease will be recognized as being associated with (untreated) aPL;
Some cases of memory loss are treatable;
APS will continue to have a profound effect on our clinical assessment and treatment of lupus; and
Finally, to return to the opening theme, the incidence of stillbirth will be reduced, thanks, in part, to a more proactive approach to aPL testing in pregnancy.
To repeat a sentence taken from the 1983 paper:1
ADVERTISEMENT
SCROLL TO CONTINUE
For those of us hardened into nihilism by years of study of various autoantibodies in SLE, there is a rare sense of excitement at the implications of the associations now being reported.
Thirty years on, that clinical excitement remains undimmed.
---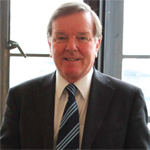 Graham R.V. Hughes, MD, FRCP, is a consultant rheumatologist and head of the London Lupus Centre. He trained at The London Hospital, and spent two years in New York working on the introduction of the DNA-binding test, under the leadership of Dr. Charles Christian. In 1971, he opened a specialist clinic in London, dealing uniquely with lupus and related diseases. He is founder and editor of the international journal, Lupus. In 1983, he described the antiphospholipid syndrome and in 1991, was awarded the ILAR (world research) prize for this work. Other honors include Doctor Honoris Causa in the Universities of Marseille and Barcelona, and Master of the ACR.
ADVERTISEMENT
SCROLL TO CONTINUE