The 2010 Winter Olympics were held in Vancouver last month, and ARHP member Lori Cyr, BSc, OT, was chosen as a torchbearer for the Olympic Torch Relay.
A practice coordinator for occupational therapy with Vancouver Coastal Health, an ARHP member since 1992, and a self-proclaimed "Olympic junkie," Cyr recalls her childhood fantasies of the Olympics. "I am eight years old careening down the hill in a farmer's field on my blue 'Grenoble' cable binding skis," she recounts her memory of pretending to be Nancy Greene, Canada's 1968 Grenoble Olympics skiing gold medalist. "It's my first Olympic-related memory, and the moment I heard Vancouver would be hosting the 2010 Winter Games, I knew I would be making more."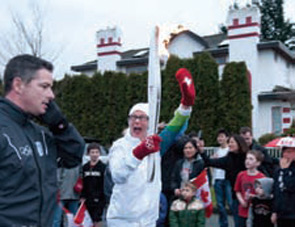 Lori Cyr ran in the 2010 Winter Olympics Torch Relay.
Cyr was chosen to run an estimated 300 meters with the Olympic Torch on February 11 due to her essay on how she lives Olympic in her efforts to protect the environment. For Cyr, this is a full-circle moment that takes her right back to her childhood memories. "Just thinking about it now, my heart rate is rising and my throat constricting," she says, "because, for that moment, I was the only person in the world carrying the Olympic flame. Powerful memories to last a lifetime."