In our society, athletes occupy positions of celebrity and esteem and have become role models so important that their images are enshrined on boxes of Wheaties. Not withstanding Tiger's big fall from grace, champions from baseball to badminton are touted as heroes for our youth, setting examples for a life in which indomitable spirit overcomes adversity and success goes to the person with the most grit and determination.
While this is a beautiful myth that compels fans to fill stands and watch television until the wee hours of the morning, I think that it is time to give it a rest, especially when it comes to the Olympic Winter Games. If nothing else, the recent spectacle in Vancouver was about risk and danger and could have been an advertisement for the services of orthopedic surgeons. In reality, the essence of the games is contradictory to the goal of preventing musculoskeletal injury and the devastating long-term consequences of traumatic arthritis.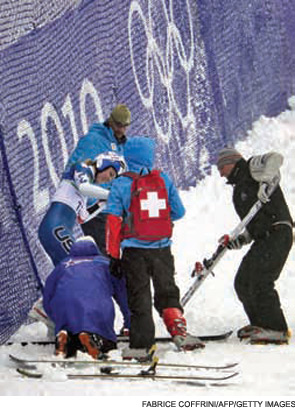 Lindsey Vonn is helped by medics and coaches after crashing during the Women's Vancouver 2010 Winter Olympics giant slalom event.
Falls and Injuries Abounded
In the coverage from Vancouver, almost every human-interest story featured an athlete who had suffered serious injury. By a combination of surgery, the ardors of intensive physical therapy, and the support of mom and dad, these athletes had restoration of damaged cartilage, bone, or muscle and, miraculously, could once again fly down the mountain or do helicopter turns of 720 or 1080 degrees while gyrating wildly 30 feet above the chasm walls of an icy track.
After watching falls and crashes in almost every event I turned on, I decided I really didn't want to expose my rheumatology sensibilities to images of joints being crushed or mangled. Being the dumb sports fan I am, I could not resist finding out whether Lindsey Vonn could again medal in the giant slalom. Vonn had already won a gold and bronze in the downhill and Super G, having somehow recovered from a serious bone bruise immediately before the Olympics. Apparently, she had achieved a cure by pressing soft Austrian cheese to her aching extremity. Whatever that cheese is, I need it in my clinic.
Alas, in the giant slalom, Vonn fell, her ski catching some ice, sending her catapulting into the fence, injuring her hand as it dragged across the ice. As she lay bashed up against the fence, the judges had to wave away the next skier, Julia Mancuso, for fear that if she, too, fell, she would impale Vonn with her poles or behead her with her skis.