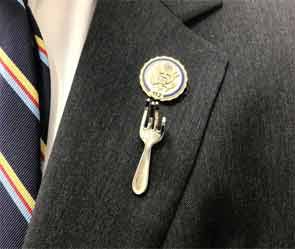 The Simple Tasks bent fork lapel pin.
Osteoarthritis (OA) of the hand is one of the more frequent diagnoses seen in a hand clinic. The carpometacarpal (CMC) joint of the thumb and small joints of the digits are most commonly involved. Risk factors are highest for postmenopausal women, individuals with a history of hand trauma, and those who have performed repetitive grasp and pinch activities over an extended period.
Typically, patients complain of pain with functional activities such as turning a doorknob or key, opening jars, and manipulating fasteners on clothing. Pain is classically located at the base of the thumb (CMC joint) and is accentuated with all activities requiring grip and pinch. Symptoms occur as the CMC joint becomes unstable secondary to laxity and biomechanical changes of the joint. Progressive instability of the CMC results in metacarpal subluxation volarly off the trapezium, causing the thumb to rest in an adducted position of comfort. This limits the ability to abduct the thumb as needed to grasp large objects. If present, Heberden's and Bouchard's nodes located at the distal intraphalangeal and proximal intraphalangeal joints respectively contribute to pain, and limit composite grasp and manipulation of small objects.
Early referral to an occupational therapist can improve hand function in patients with OA. A conservative approach is generally used for successful management of OA symptoms. Treatment goals include: pain management, rest through joint immobilization (splinting), and activity modification that incorporates joint protection techniques. Occupational therapists utilize a combination of modalities, exercises, and activities of daily living to achieve patient treatment goals.