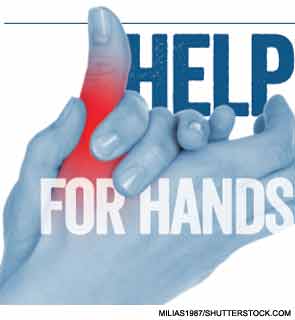 Thumb carpometacarpal (CMC) joint osteoarthritis (OA) is the second most common form of hand OA, affecting between 20% and 30% of the general population.1,2 Thumb CMC joint OA is more prevalent in females than males, increases with age, and has been associated with hand pain and loss of functional hand use.3 While CMC arthroplasty and fusion are options for patients, they may not be optimal. This article describes how OA can affect hand anatomy and kinematics, and discusses conservative interventions including splinting, exercise techniques, and physical agent modalities.
Anatomy of the Thumb CMC Joint
Bony articulation: The trapezium bone of the wrist and the first metacarpal of the thumb comprise the thumb CMC joint. The biconcave/biconvex nature of the articulating surfaces of the thumb CMC joint is unique: the trapezium is shaped like a saddle with both a concave surface and a convex surface, and the first metacarpal has corresponding convex and concave surfaces.4 The unique shape of the articulating surfaces allows for movement in flexion/extension, abduction/adduction, and the combined planar movement of opposition.