Atlanta offers its visitors just about everything—from historic places, museums, and venues to restaurants and nightlife. We've asked a few ACR and ARHP staff members to share their favorite restaurants and things to do to help ACR/ARHP Annual Scientific Meeting attendees feel more at home in the ACR's hometown.
You Might Also Like
Explore This Issue
October 2010
Also By This Author
Haag's Recommendations
David Haag moved to Atlanta just eight months before the 1996 Olympics and has served as the ARHP executive director since November 2000.
ADVERTISEMENT
SCROLL TO CONTINUE
Haag enjoys the Georgia Aquarium, with its impressive exhibits and numerous fish species; the Atlanta History Museum, which covers acres of woods, allowing you to see a working pioneer farm, the historic 1920s Swan Mansion, plus the many exhibits within the museum; and the Martin Luther King, Jr. National Historic Site. Haag is always moved when he visits the King Center because it provides a chance to see Dr. King's neighborhood, home, and church. Haag especially likes the exhibit of Gandhi and how his nonviolent protests against British control of India were the basis for Dr. King's protests of the 1960s.
Haag also loves the Cyclorama in Grant Park—next to the Atlanta Zoo—because it provides a wonderful glimpse of how important Atlanta was before and during the Civil War; and the CNN tour, which is a great way to see the behind-the-scenes of how a major 24-hour news station works. Catching a Broadway show or other event at the Fox Theatre—a Moorish citadel—is another great experience Haag recommends.
ADVERTISEMENT
SCROLL TO CONTINUE
In November, Haag says that you can't miss an Atlanta Thrashers hockey game or an Atlanta Hawks basketball game in Philips arena.
Atlanta is known for its trees, hills, and beautiful old neighborhoods. The three neighborhoods Haag highly recommend for an enjoyable walk are: Virginia-Highlands, which has beautiful bungalows from the 1920s and 1930s, plus a small downtown containing shops and restaurants; Ansley Park, with giant mansions next to the Atlanta Botanical Gardens and Piedmont Park; and Grant Park, which has gorgeous Victorian homes.
Haag's love for Thai cuisine keeps him visiting three of his favorite restaurants: Ma Li (Virginia-Highlands), Little Bangkok (Cheshire Bridge Road), and Nan (17th Street).
ADVERTISEMENT
SCROLL TO CONTINUE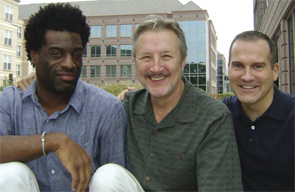 Damian Smalls, Ron Olejko, and David Haag (left to right) outside the ACR headquarters in Atlanta.
Olejko's Recommendations
Ron Olejko, the ACR's senior director of meetings and conferences, moved to Atlanta from New York in the late 1970s and has worked for the ACR for over 30 years.
One of things that Olejko enjoys the most about the Atlanta is historic neighborhoods like Inman Park. During the Civil War, this land was the center of many skirmishes during the Battle of Atlanta and later became Atlanta's first planned community and one of the nation's first garden suburbs. The late Victorian architecture is a delight to experience, and the unique shops and restaurants in the adjacent Little Five Points area are a perfect destination for the artistic crowd.