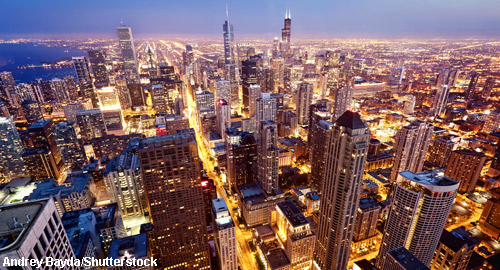 With your registration for the 2018 ACR/ARHP Annual Meeting complete, the time has come to plan your trip to Chicago. Before buying plane tickets and reserving your hotel room, consider adding on a few extra days to explore the city. Chicago has a lot to offer.
Also by this Author
The Annual Meeting is Oct. 19–24 at McCormick Center, which means attendees will see beautiful views of Lake Michigan and the Chicago skyline, highlighting the city's unique architecture. The weather in October, although unpredictable, is generally brisk and beautiful. The trees will be changing colors, and the locals will be pulling out sweaters and light jackets. Without a doubt, the sight of the lake and the skyline will draw you into the city.
Getting Around Town
Chicago is a ride-sharing city. The city has ties to investors in Uber and has passed ride share friendly legislation. Downloading a ride-sharing app, such as Uber or Lyft, on your smartphone, offers an easy way to get around town.
Alternatively, the Chicago Transit Authority (CTA) also runs extensive bus and train systems. Bus #3 (King Drive) can take visitors from McCormick Place down Michigan Avenue to Millennium Park, the Magnificent Mile and the Chicago Water Tower. Also, check out the city's train system, The 'L,' which has been running since 1892. Apps for buses and trains are available for smart phones.
Chicago's Sights
If the day is beautiful and you can only do one thing, visit the bean (officially known as Cloud Gate). Located in Millennium Park, just 2.5 miles north of McCormick Center off Michigan Ave., a visit to the bean will put you in the new heart of the city. And it will allow you to see a reflection of the many faces of Chicago. Next, explore Millennium Park and its Lurie Garden, a 3.5-acre urban retreat nestled within a 15-foot-high "shoulder" hedge. The area is designed to remind visitors of Carl Sandburg's famous description of Chicago as the "City of the Big Shoulders." From there, you can cross the snaking BP pedestrian bridge to Maggie Daley Park to get a closer view of the lake and see children enjoying the fanciful play gardens.
If the weather takes a turn for the worse, you can visit the Art Institute of Chicago, which is open daily until 5 p.m. (8 p.m. on Thursdays). As Chicago built its wealth in the 19th century, Chicagoans invested much of that money in impressionist art. Thus, the city's collection of impressionists and post-impressionists, which includes Georges Seurat's A Sunday on La Grande Jatte, is considered one of the finest outside of France. Other iconic works at the Art Institute include Grant Wood's American Gothic and Edward Hopper's Nighthawks. The Modern Wing of the Art Institute opened in 2009 and looks out over Millennium Park. It provides a home to works by Picasso, Matisse, Magritte and others.