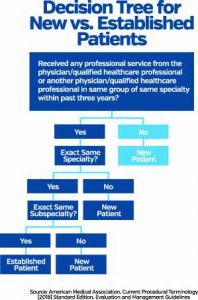 When coding evaluation and management (E/M) services provided to a patient, one of the most persistent concerns is whether a patient is new or established to the practice. Although this may seem like a simple coding answer, the distinction is an important one, because it enables providers to appropriately bill and receive reimbursement correctly. E/M service is a key factor in rheumatology practices and it is imperative that your coding hold up to any claims review to prevent payment delays.
In 2012, the Current Procedural Terminology (CPT) manual made subtle changes to the definition of a new patient; unfortunately, the Centers for Medicare & Medicaid Services (CMS) did not change its definition to stay aligned with these updates. This discrepancy, along with the complex rules and regulations of E/M, has caused great confusion for many providers and their compliance efforts.
New vs. Established Patients
Keep in mind, not all E/M codes are categorized as new or established patients, such as initial observation care, critical care services, emergency department, inpatient consultations, etc. For example, patients seen in the emergency department are always defined as new, and the provider is expected to record the patient's history at all times to diagnose a problem. For purposes of billing for E/M services in the office setting, patients are identified as either new or established, depending on face-to-face encounter(s) with a provider. The patient distinction is important in the office setting, since new patient codes carry higher relative value units based on the additional work new patient visits require.
The CPT manual differentiates new and established patients:
A new patient is one who has not received any professional services from the physician/qualified healthcare professional or another physician/qualified healthcare professional of the exact same specialty and subspecialty who belongs to the same group practice, within the past three years. The CPT code group is 99201-99205.
An established patient is one who has received professional services from the physician/qualified healthcare professional or another physician/qualified healthcare professional of the exact same specialty and subspecialty who belongs to the same group practice, within the past three years. The CPT code group is 99211-99215.¹
However, the CMS has different definitions of new and established patients in the Medicare Claims Processing Manual, Chapter 12—Physician/Nonphysician Practitioners, Section 30.6.7:
Interpret the phrase "new patient" to mean a patient who has not received any professional services (i.e., E/M service) or other face-to-face service (e.g., surgical procedure) from the physician or physician group practice (same physician specialty) within the previous three years. For example, if a professional component of a previous procedure is billed in a three-year time period (e.g., a lab interpretation) is billed and no E/M service or other face-to-face service with the patient is performed, then this patient remains a new patient for the initial visit. An interpretation of a diagnostic test, reading an X-ray or EKG, etc., in the absence of an E/M service or other face-to-face service with the patient does not affect the designation of a new patient.²
Understanding the three components and awareness of the rules are necessary to bill for new patients. Let's take a look at each component: