2018 Evelyn V. Hess Award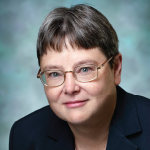 The Evelyn V. Hess Award is given annually to recognize the exceptional contributions of a clinical or basic researcher whose body of work has advanced the understanding of the science of lupus treatment.
At a reception during the 2018 ACR/ARHP Annual Meeting in Chicago, the Lupus Foundation of America presented the Evelyn V. Hess Award to Michelle Petri, MD, MPH, the director of the Hopkins Lupus Center and co-director of the Hopkins Lupus Pregnancy Center. She was honored for her extensive contributions and impact on the field of lupus over the past 30 years.
Dr. Petri is the principal investigator of the Hopkins Lupus Cohort, a more than 2,000-participant, 30-year longitudinal study of the relationship between cardiovascular risk factors, gene markers and disease activity. The study is sponsored by the National Institute of Arthritis and Musculoskeletal and Skin Diseases, part of the National Institutes of Health.