Everybody is talking about biomarkers!
You Might Also Like
Explore This Issue
January 2015
Also By This Author
What is a biomarker? According to the NIH Biomarkers Definitions Working Group in 1998, a biomarker is:
ADVERTISEMENT
SCROLL TO CONTINUE
A characteristic that is objectively measured and evaluated as an indicator of normal biologic processes, pathological processes, or pharmacologic responses to a therapeutic intervention.
The ideal biomarker would:
ADVERTISEMENT
SCROLL TO CONTINUE
Be safe and easy to measure;
Be sensitive and specific for the disease in question;
Be consistent across gender and ethnic groups;
Be cost efficient;
Provide more information than we have now; and
Be modifiable with treatment.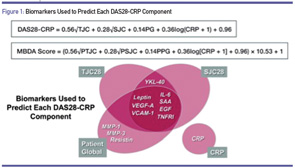 click for large version
Figure 1: Biomarkers Used to Predict Each DAS28-CRP Component
Biomarkers used to estimate each component of the Disease Activity Score in 28 joints using the C-reactive protein level (DAS28-CRP) in the multibiomarker disease activity (MBDA) algorithm. The algorithm uses different subsets of biomarkers and/or different weightings to predict each component of the DAS28-CRP, including the tender joint count (TJC), swollen joint count (SJC), patient global assessment (PG), and CRP level. The resulting mathematical relationship between the DAS28-CRP and MBDA score is: MBDA = (DAS28-CRP) × 10.53 + 1. PTJC = predicted TJC; PSJC = predicted SJC; PPG = predicted PG; TJC28 = 28-joint TJC; SJC28 = 28-joint SJC; VEGF-A = vascular endothelial growth factor A; VCAM-1 = vascular cell adhesion molecule 1; IL-6 = interleukin-6; SAA1 = serum amyloid A1; EGF = epidermal growth factor; TNFRI = tumor necrosis factor receptor type I; MMP-1 = matrix metalloproteinase 1.
Source: Curtis JR, van der Helm-van Mil AH, Knevel R, et al. Validation of a novel multibiomarker test to assess rheumatoid arthritis disease activity. Arthritis Care Res (Hoboken). 2012 Dec;64(12):1794–1803.
Whether you know it or not, you are already using "biomarkers" every day—blood pressure, lipid levels and glycosylated hemoglobin, to name just a few. In fact, in the treatment of rheumatoid arthritis (RA), you are undoubtedly using erythrocyte sedimentation rate (ESR), C-reactive protein (CRP), rheumatoid factor (RF), and anticitrullinated protein antibodies (ACPA aka anti-CCP). Perhaps you even use Health Assessment Questionnaire (HAQ), RAPID-3 or Disease Activity Score (DAS) in its various iterations (Simplified DAS or SDAS, or Clinical DAS or CDAS).
ADVERTISEMENT
SCROLL TO CONTINUE
With respect to RA, we use the biomarkers we have to:
Identify patients with early RA;
Predict which patients will have severe disease with radiographic progression (RP);
Predict which patient will respond to which medications, especially biologic DMARDs;
Predict who will have toxicity to specific medications; and
Identify adequate response to medications.
Drawbacks of Current Biomarkers
To some extent, current biomarkers are helpful, but there are significant deficiencies. For example, ESR and CRP are elevated in only 40–50% of RA patients, which limits their application to half our patients. The relationship of CRP to RA disease activity is inconsistent. The Consortium of Rheumatology Researchers of North America (CORRONA) published in 2014 a study of 9,135 patients in their registry, in which they explored the relationship of the Clinical Disease Activity Index (CDAI) to CRP. The CDAI was derived from the more complicated DAS by eliminating the CRP or ESR value, as well as the complex formula for calculation. In patients with high disease activity by CDAI, neither ESR nor CRP was elevated in almost half of patients, and in patients with LOW disease activity, either ESR or CRP was elevated in a third. Therefore, we cannot adequately assess disease activity by the ESR or CRP.