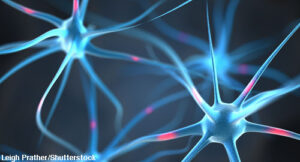 ORLANDO, FLORIDA—Recognizing and effectively treating neuropsychiatric lupus is one of the more challenging tasks facing rheumatologists. At ACR Education Exchange 2023, the session titled Challenging Cases in Neuropsychiatric Lupus provided an insightful overview of the topic and stressed the importance of differentiating this condition from mimics, including infections, medication effects and malignancy.
CNS Lupus
Michelle Petri, MD, MPH, MACR, professor of medicine and director of the Johns Hopkins Lupus Center, Johns Hopkins School of Medicine, Baltimore, began her presentation by answering a specific question: What is central nervous system (CNS) lupus?
Two basic types of CNS lupus exist: focal disease, which typically stems from ischemic or vascular mechanisms; and diffuse disease, which can be caused by autoantibodies against brain-specific antigens, blood-brain barrier disruption or intrathecal inflammatory cytokines, such as interferon alpha or tumor necrosis factor-α. The main targets that appear to be implicated in CNS lupus are the microglia, which make up about 10% of the total cells in the CNS. Dr. Petri explained that lupus serum immunoglobulin induces microglia activation through an Fc fragment-dependent pathway modulated by the B lymphocyte stimulator (BLyS, also known as BAFF).
Several animal models provide insight into the mechanisms at play in murine models of CNS lupus. In a study from Nestor et al. looking at a mouse model, lupus antibodies were shown to induce behavioral changes mediated by microglia.1 This effect seems to be blocked by angiotensin-converting enzyme (ACE) inhibitors, which can prevent microglia activation in these models; however, it is important to note that ACE inhibitors and angiotensin receptor blockers (ARBs) have not been tested in humans with CNS lupus.
In a study by Chalmers et al., MRL/lpr mice (a classic murine lupus model) depleted of macrophages and microglia via treatment with a small colony stimulating factor-1 receptor were observed to show specific improvement in depression-like behavioral deficits.2
Finally, Karino et al. performed RNA sequencing of MRL/lpr mice and identified Ikbke, which encodes the inhibitor of NF-κB kinase subunit ɛ (IKBKε), as a potential therapeutic target for neuropsychiatric lupus. The researchers then observed that intracerebroventricular administration of an IKBKε inhibitor ameliorated cognitive function and suppressed microglial activation in these mice.3 Although intracerebroventricular administration of a medication does not seem feasible in humans, this study at least provides a potential proof of concept for identifying and treating a specific target in CNS lupus.
One of the most important lupus-related research articles in recent years is a 2019 article from Pisetsky et al. that defined type 2 symptoms of systemic lupus erythematosus (SLE), Dr. Petri stated. Type 1 symptoms of lupus include classic signs and symptoms of the disease, such as rash, arthritis, alopecia and other manifestations that have a clearcut relationship to autoimmunity. Type 2 symptoms, such as fatigue, diffuse pain, cognitive dysfunction, sleep disturbance, anxiety/depression and brain fog are non-inflammatory and do not respond to immunosuppression.4