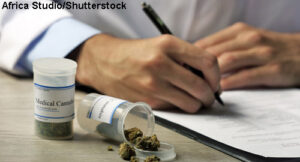 Editor's note: ACR on Air, the official podcast of the ACR, dives into topics important to the rheumatology community, such as the latest research, solutions for practice management issues, legislative policies, patient care and more. Twice a month, host Jonathan Hausmann, MD, a pediatric and adult rheumatologist in Boston, interviews healthcare professionals and clinicians on the rheumatology front lines. In a series for The Rheumatologist, we provide highlights from these relevant conversations. Listen to the podcast online at acronair.org, or download and subscribe to ACR on Air wherever you get your podcasts. Here we highlight episode 29, Cannabis as Pain Management, which aired on May 24, 2022.
In states or countries where it's legal, medical cannabis may be an effective option for pain management for patients with rheumatic disease. For patients interested in this option, rheumatologists should provide guidance on purchasing medical cannabis from licensed providers and steer specific patient groups, such as younger or older patients, away from its use, says Mary Ann Fitzcharles, MD, associate professor of medicine in the Division of Rheumatology and the Allen Edwards Pain Management Unit, McGill University, Montreal.
Dr. Fitzcharles helped develop the Canadian Rheumatology Association physician statement on medical cannabis and is the co-chair of the ACR Pain & Fibromyalgia Abstract Committee. She spoke with Dr. Hausmann, ACR on Air podcast host and a pediatric and adult rheumatologist in Boston, about the use of cannabis for pain management.
Cannabis Evolution
Although cannabinoids have been used in medicine for more than 5,000 years, its legal status has hindered the ability to conduct research with it, Dr. Fitzcharles says.
Access to cannabis for patients and research began to relax with the legalization of medical cannabis in California in 1996 and in Canada in 2001. However, in the beginning, access was still limited. That access has changed now that medical cannabis is legal not just in Canada, but also in 38 U.S. states and the District of Columbia. Recreational cannabis is also legal in 22 U.S. states, the District of Columbia and Canada.1
Dr. Hausmann recalls being in medical school in the early 2000s and learning that pain should be aggressively treated with opioids. Cannabis was looked at negatively.
"Fast forward 15 years, and it seems like it's the complete opposite," he says. "Opioids are now looked at with a negative light, and cannabis is having a resurgence of interest and applications."