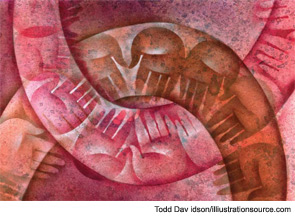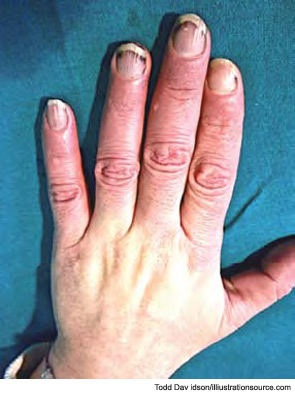 Figure 1: A 58-year-old female came to our rheumatology clinic in the winter suffering from cold hands (intensive Raynaud's phenomenon). Symptoms began in 2004 and medical history is negative.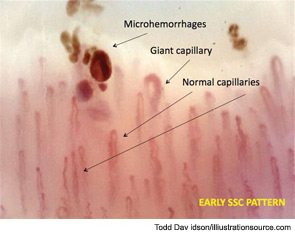 Figure 2: The nailfold videocapillaroscopic analysis shows the combination of giant capillaries and microhemorrhages (early scleroderma pattern) that identify the systemic sclerosis microvessel damage associated with secondary Raynaud's, which is often long lasting (magnification x200).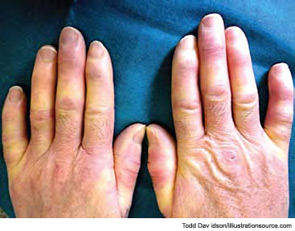 Figure 3: The most common initial symptom and clinical sign of systemic sclerosis is symmetrical Raynaud's phenomenon.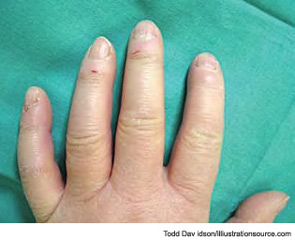 Figure 4: The insidious swelling of the distal extremities (e.g., puffy fingers), followed by gradual thickening of the skin of the fingers, characterize the progression of systemic sclerosis versus the fibrotic phase.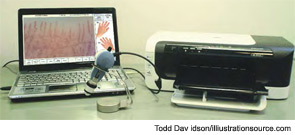 Figure 5: At the level of the nailfolds, it is possible to detect the progression of the morphological changes using the videocapillaroscope, a safe and noninvasive tool that is practically an immersion microscope connected to a microcamera.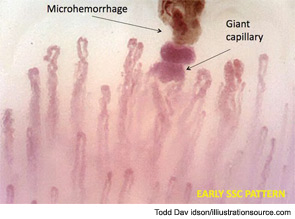 Figure 6: The nailfold capillaroscopic early scleroderma pattern is characterized by the presence of giant capillaries (homogeneous and symmetrical capillary enlargement over 50 micrometers) and microhemorrages (magnification x200) (early pattern).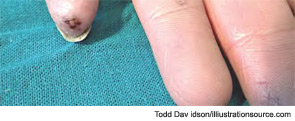 Figure 7: Local ischemia from vasoconstriction may induce endothelial cell and tissue necrosis and damage over and preceding the presence of an "early" capillaroscopic scleroderma pattern.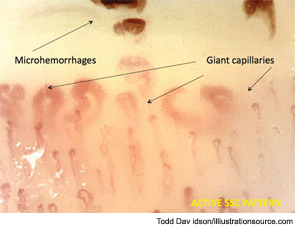 Figure 8: The dynamic involvement of capillaries by the immunopathological process in SSc can worsen the capillaroscopic pattern (from early to active pattern) and become linked to overt clinical symptoms of the disease (i.e., skin trophic lesions) (magnification x200) (active pattern).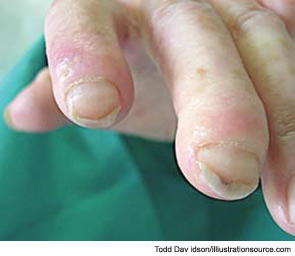 Figure 9: Typical skin trophic lesions are visible in the finger of an SSC patient with an active capillaroscopic pattern.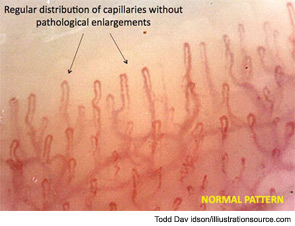 Figure 10: As the pathophysiological process of SSc progresses into fibrosis, the capillaroscopic pattern most likely reflects the effects of tissue hypoxia; massive capillary destruction, loss of capillaries, and avascular areas are observed along with ramifications and bushy capillaries, indicating neoangiogenesis (magnification x200) (late pattern).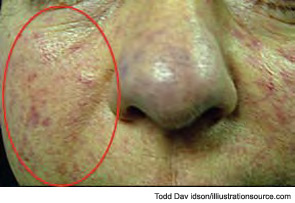 Figure 11: The classical features of neoangiogenesis are evident in the skin of the SSc patients with advanced disease (teleangectasis).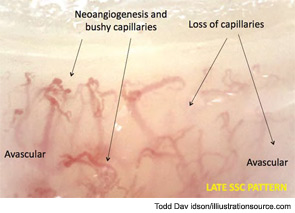 Figure 12: The normal nailfold capillaroscopic pattern, which occurs in healthy subjects or in patients with benign primary Raynaud's phenomenon, is clearly different from the scleroderma capillaroscopic patterns.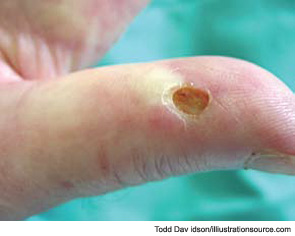 Figure 13: Loss of capillaries may lead to tissue hypoxia; the most common clinical complication in SSc is the development of digital ulcers.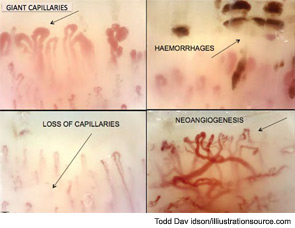 Figure 14: The most important capillaroscopic aspects of microvascular damage that are considered as markers for the definition of the scleroderma pattern.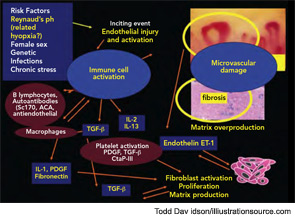 click for large version
Figure 15: Recent studies indicate that treatment of SSc can reduce the microvasculature damage. Regression of the early capillaroscopic markers (e.g., giant capillaries and microhemorrhages) and reversal of the qualitative patterns can be obtained with immunosuppressive therapies (left blue oval). Vasoactive drugs (e.g., prostanoids and/or endothelin-receptor blockers) can also modulate the vascular/fibrosis-related symptoms and tissue consequences (right blue oval).
During a cold spell in the winter, a 58-year-old woman came into our rheumatology clinic complaining of discomfort from cold hands. She said that the problem started in 2004 when she was 53 years old; she gave an otherwise negative medical history (see Figure 1). She did not have symptoms related to any connective tissue disease, and her physical exam was unremarkable. There was no sclerodactyly, pitting scars, or dyspnea. Lung function analysis did not show signs of restrictive lung involvement (total lung capacity 99%, vital capacity 113%, diffusing lung capacity for carbon monoxide [DLCO] 109%). At echocardiography, there were no signs of abnormal pulmonary function (systolic pulmonary artery pressure was 25 mmHg). The laboratory showed low positivity for antinuclear antibodies (dilution 1:80), with immunofluorescence staining indicating a centromere pattern; immunoassay showed positivity for anticentromere antibodies.
You Might Also Like
Explore This Issue
June 2011
Primary Raynaud's Phenomenon or Systemic Sclerosis?
Further evaluation of the patient by nailfold videocapillaroscopic (NVC) analysis demonstrated the combination of giant capillaries and microhemorrhages, an "early" scleroderma pattern (see Figure 2). Since these findings are characteristic of microvessel damage in systemic sclerosis (SSc), the diagnosis turned to secondary Raynaud's phenomenon.1 In this case, the diagnosis of early SSc was based on the criteria of LeRoy and Medsger, which were recently validated and include the scleroderma pattern by NVC and the presence of specific autoantibodies.2,3