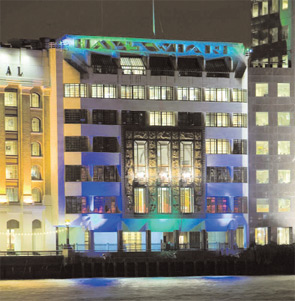 The London Lupus Centre is housed in the historic Olaf House, shown here during a son et lumiere show.
Patients with lupus often get passed from pillar to post," says rheumatologist Graham Hughes, MD. To ease the burden of those suffering from the disease, Dr. Hughes—who first described the antiphospholipid syndrome (APS) or Hughes Syndrome in 1983—opened the London Lupus Centre (LLC) in January 2006. The state-of-the-art diagnostic facility, alongside the Thames in the shadow of London Bridge, specializes in helping patients with lupus, lupus-related diseases, and APS.
You Might Also Like
Also By This Author
There is expert and compassionate support for patients at every step of the LLC experience. Not only have all seven doctors on staff trained with Hughes and run their own lupus clinics, but the nurses and administrative staff have backgrounds in working with rheumatic diseases. LLC Manager Sandy Hampton, who is often the first person to speak with a patient, knows lupus from a personal perspective. She has spent time in intensive care and undergone a kidney transplant due to the disease.
ADVERTISEMENT
SCROLL TO CONTINUE
Busy First Year
In its first year, the need for a clinic of this kind was borne out by the numbers. The LLC had 2,250 consultations with patients from 37 countries who made the journey to London for the care to be found at the LLC. Plans for 2007 are to double these numbers.
Patients, who are referred by their own doctors or hospital clinics, are asked to bring previous medical records with them. In many cases they come for diagnosis or clarification of complicated case histories. The LLC is financed through the revenues brought in by seeing patients, and to a lesser extent by blood tests. While the majority of the LLC's patients are either covered by insurance through their own country or embassy, approximately a quarter of the patients are self-funded.
ADVERTISEMENT
SCROLL TO CONTINUE
The focus of the LLC is to treat the entire scope of problems that lupus patients encounter under one roof. "Each of our eight rheumatologists has a slightly different clinical specialty," says Dr. Hughes, who is hoping to enlist doctors in other specialties to round out the team.
The team approach is important to LLC patient Cheryl Marcus, who needs the care of a dermatologist, a rheumatologist, and a nephrologist. "Last time I was in, Dr. Hughes heard something he didn't like when he listened to my heart, so he arranged for me to see the London Lupus Centre heart specialist," she says.