Pregnancy is a time of social, emotional and physical challenge for many women, and women with rheumatic diseases face additional challenges—particularly at this time. With higher rates of preeclampsia, intrauterine growth restriction and, in some cases, disease flares, pregnancies for women with rheumatic disease can threaten the health and life of the mother. It is imperative that rheumatologists and other rheumatology professionals be able to provide the best evidence-based care and guidance for all of their patients across their lifespan. Politics are currently complicating the fulfillment of this imperative.
In Dobbs v. Jackson Women's Health Organization on June 24, the U.S. Supreme Court overturned Roe v. Wade, rescinding the protection of the right to safe and effective abortions and putting women's reproductive health under the purview of the states. Abortion is likely to remain legal in only 20 states and the District of Columbia, and bans have already gone into effect in at least 24 states.1 Another effect: Pharmacies have begun refusing to fill prescriptions for methotrexate, an essential medication for patients with rheumatic disease, because it could also be used as an abortifacient prior to nine weeks of gestation.2
ADVERTISEMENT
SCROLL TO CONTINUE
The ACR has made it clear that it opposes any action that interferes with the practice of evidence-based medicine or intrudes upon the doctor-patient relationship. And it has established an Access to Reproductive Health Care Task Force to explore options related to access to methotrexate and other issues.
In an email statement June 30, Jack Resneck Jr., MD, president of the American Medical Association, said, "The Supreme Court has created chaos in healthcare with its irresponsible decision."
ADVERTISEMENT
SCROLL TO CONTINUE
"The court's nullification of this patient protection will impose a great burden on historically and economically marginalized and disadvantaged populations, who already suffer from limited access to our healthcare system," emphasized AAMC (Association of American Medical Colleges) President and CEO David J. Skorton, MD, in a June 24 statement.
On July 8, President Joe Biden signed an Executive Order intended to protect access to reproductive healthcare services as possible until Congress can provide more definitive protection.
Coincidental to the fast-moving and sweeping changes in reproductive rights taking place, the ACR held a virtual Reproductive Health in Rheumatic Disease Symposium on May 20, discussing the progress that has been made in the management of patients with rheumatic disease over the past few decades and the challenges that remain.
ADVERTISEMENT
SCROLL TO CONTINUE
Reproductive Rheumatology
When Michael D. Lockshin, MD, was a first-year medical student (Harvard Medical School, Boston, Class of 1963), he recorded data on pregnancies and deliveries at Boston Lying-In Hospital (now Brigham and Women's Hospital). In what proved to be a catalyst for a long career of research in reproductive health and rheumatic disease, Dr. Lockshin encountered a pregnant woman with systemic lupus erythematosus (SLE). The patient and her baby, unfortunately, died in the hospital. At the morbidity and mortality conference that followed, the faculty had few answers to questions about the case. "We don't know why, but lupus patients just die in pregnancy," Dr. Lockshin remembers hearing.
Fortunately, the intervening decades have seen a groundswell of research in the area of reproductive rheumatology, a term coined by Eliza Chakravarty, MD.
In her keynote address at the symposium, Megan Clowse, MD, MPH, highlighted recent advancements and identified areas of needed growth.
Lupus
The risks of SLE in pregnancy and the improved management of pregnant patients with SLE has been an area of tremendous growth in recent decades. Early seminal work by Dr. Lockshin, Michelle Petri, MD, MPH, Rosalind Ramsey-Goldman, MD, and others looked at disease activity and outcomes of pregnancy in SLE patients.3,4 SLE was previously seen as a universal cause of poor pregnancy outcomes. By demonstrating that patients with well-controlled lupus often have healthy pregnancies, the PROMISSE study, led by Jane Salmon, MD, and Jill Buyon, MD, changed this belief and our approach to pregnancy in patients with SLE.5
Research is expanding to help us understand which racial and socioeconomic patient groups in SLE may be at risk of poor outcomes, irrespective of disease activity.
Medication Management During Pregnancy
For decades, the prevailing approach to medication management for pregnant women with rheumatoid arthritis (RA) was to discontinue all medications: The patient's disease state in RA was generally thought to improve during pregnancy. Early work by Monika Østensen, MD, PhD, and Rabdoud Dolhain, MD, PhD, improved our understanding of RA in pregnancy.6,7 By showing that some women with RA experience increased disease activity during pregnancy, Dr. Østensen and Dr. Dolhain demonstrated the importance of continuing disease management during pregnancy.
Discontinuing medications during pregnancy has, unfortunately, continued to be a common approach to the management of patients with rheumatic disease. It wasn't until the mid-2000s that rheumatologists began to recognize the safety of tumor necrosis factor (TNF) inhibitors in pregnancy and to follow in the footsteps of our colleagues in gastroenterology by continuing TNF inhibitor use during pregnancy.8
Graham R.V. Hughes, MD, FRCP, was an early leader who advanced our understanding of antiphospholipids in pregnancy. Soon after he noted the association of antiphospholipid antibodies with pregnancy loss, trials demonstrated the benefit of aspirin and heparin use in these patients.9 These have become the standard of care today. Important work on hydroxychloroquine and certolizumab use in patients with antiphospholipid syndrome (APS) has followed.
Work by Dr. Buyon and others has given us a better understanding of the role of the anti-Ro antibody in neonatal lupus and of the utility of hydroxychloroquine use during pregnancy by women who have the Ro antibody. The PATCH trial, described by Dr. Clowse as "one of the great feats in reproductive rheumatology in the last decade," demonstrated that hydroxychloroquine reduces by half the rate of recurrence of congenital heart block.10 Hydroxychloroquine has become standard of care in the pregnancies of women with the anti-Ro antibody, as well as in women with SLE and rheumatic diseases more generally.
The ACR has created a handy fact sheet to help rheumatologists educate their patients and colleagues in obstetrics about what medications used to treat rheumatic conditions are safe during pregnancy and lactation. See Table 1.
Guideline Highlights Areas of Needed Research
The 2020 ACR Guideline for the Management of Reproductive Health in Rheumatic and Musculoskeletal Diseases, the culmination of a multi-year effort led by Lisa Sammaritano, MD, was a pioneering document to support the management of patients throughout their reproductive lives.11 Most of the recommendations are conditional, without enough of an evidence base to reach the status of "strong" recommendation. This paucity of evidence highlights the need for further research focused on the reproductive health needs of our patients.
Already, much has changed since the publication of the guideline. Mehret Birru Talabi, MD, PhD, identified four outstanding areas for update in the next version of the Reproductive Health Guideline: preeclampsia prevention, medication safety in pregnancy and lactation, COVID-19 vaccination and treatment in pregnant patients, and pregnancy termination.
The 2020 Reproductive Health Guideline conditionally recommends the use of low-dose aspirin to prevent preeclampsia in patients with SLE or APS, but there remains a lack of research in this area. The use of low-dose aspirin has been studied in patients with APS, but has not been explicitly studied in patients with lupus or other rheumatic diseases (e.g., RA) who may benefit from low-dose aspirin in pregnancy. It remains unclear what dose constitutes the optimal amount of aspirin: 81 mg or 100 mg, as used in the U.S. and Europe, respectively.
The results of the IMPACT study, led by D. Ware Branch, MD, and Dr. Salmon, may affect our understanding of the role of TNF blockade in preventing preeclampsia.12 This ongoing trial randomizes patients with APS to receive certolizumab in addition to standard therapy (i.e., heparin and aspirin). And, although not routinely available in commercial laboratories, the sFlt-1/PLGF ratio may be a valuable screening test for preeclampsia and may be considered in the future Reproductive Health Guideline.
The Reproductive Health Guideline conditionally recommends screening for congenital heart block with serial fetal echocardiograms in pregnant patients with anti-Ro antibodies, but the optimal frequency of monitoring is unclear and varies by institution. The progression from low-degree atrioventricular block to complete heart block can occur rapidly, over the course of hours. Because complete heart block is largely irreversible and fatal, the best approach is prevention. The STOP BLOQ trial, led by Dr. Buyon and Bettina Cuneo, MD, is evaluating the use of home fetal Doppler monitoring to improve early identification of atrioventricular block and intervention prior to progression to complete heart block.13 The results of this trial will likely impact future versions of the Reproductive Health Guideline.
Publication of the 2020 Reproductive Health Guideline preceded the COVID-19 pandemic. We have little information about how pregnant patients with rheumatic and musculoskeletal diseases fared during the pandemic and about the safety of COVID-19 therapeutics (e.g., Paxlovid) and prophylaxis (e.g., Evusheld) in this population. While under evaluation by the COVID-19 Global Rheumatology Alliance, there is not yet a substantial body of knowledge to guide decision making related to COVID-19 vaccines, clinical course and therapies for pregnant women with rheumatic diseases.
Effects of Dobbs v. Jackson
Dr. Talabi also highlighted studies by Dr. Lockshin and others published since the 2020 Reproductive Health Guideline that demonstrate the safety of elective termination in pregnant patients with rheumatic diseases.14
In a series of prescient comments, Dr. Talabi encouraged rheumatologists to consider the ways they may be personally and professionally affected by changes to abortion access. One month later, on June 24, the U.S. Supreme Court voted to overrule Roe v. Wade in the Dobbs v. Jackson decision, eliminating the constitutional right to abortion. Dr. Talabi highlighted instances in which elective termination may be medically important for a patient, especially in our population of patients at increased risk of adverse events in pregnancy. Dr. Talabi also discussed the fraught area of teratogenic or abortifacient medications used in rheumatic diseases and legality concerns for rheumatologists as prescribing physicians.
Methotrexate is widely used as a safe medication to treat a variety of rheumatic diseases, but it can also function as an abortifacient. Although mifepristone and misoprostol are the most commonly used medications for medical abortion, methotrexate can also be used in this capacity. Patients are turning to Twitter and Facebook to share their stories of being denied refills of their methotrexate prescription because of legality concerns by their doctor or pharmacy.
The ACR has assembled a task force of medical and policy experts to determine the best course of action to ensure our patients keep access to the treatments they need. In the meantime, the ACR is asking members and patients who have experienced challenges accessing methotrexate to email [email protected] with details.
This growing problem is also on the radar of rheumatic disease advocacy groups. The Arthritis Foundation ([800]283-7800), the Lupus Foundation of America ([email protected]) and Creaky Joints ([845]348-0400), for example, have issued calls for patients to contact them if they are having trouble with access to methotrexate due to these recent legal changes.
In an effort to clarify legality concerns among physicians, the Department of Health & Human Services has issued guidance on the disclosure of information related to reproductive healthcare. It makes clear that physicians are not required to disclose private medical information to third parties and provides patients with tips on protecting private health information on personal cell phones and tablets. The AMA has identified and recommended additional actions to increase transparency on what apps are doing with medical information. Technology companies are taking their own actions.
On July 1, tech giant Google announced steps it is taking to help protect privacy, stating: "Some of the places people visit—including medical facilities like counseling centers, domestic violence shelters, abortion clinics, fertility centers, addiction treatment facilities, weight loss clinics, cosmetic surgery clinics, and others—can be particularly personal. Today, we're announcing that if our systems identify that someone has visited one of these places, we will delete these entries from Location History soon after they visit. This change will take effect in the coming weeks."15
It has never been more important for rheumatologists to meet the reproductive health needs of our patients. Patients with rheumatic diseases face unique challenges across their reproductive lives. Despite such challenges as under-funding and lack of awareness, the ACR is working to increase knowledge and improve care for the reproductive health of our patients in the years to come.
---
Keri Losavio has been the editor of The Rheumatologist since 2014.
Julie Nusbaum, MD, is an assistant professor in the Division of Rheumatology, NYU Long Island School of Medicine, Mineola, N.Y.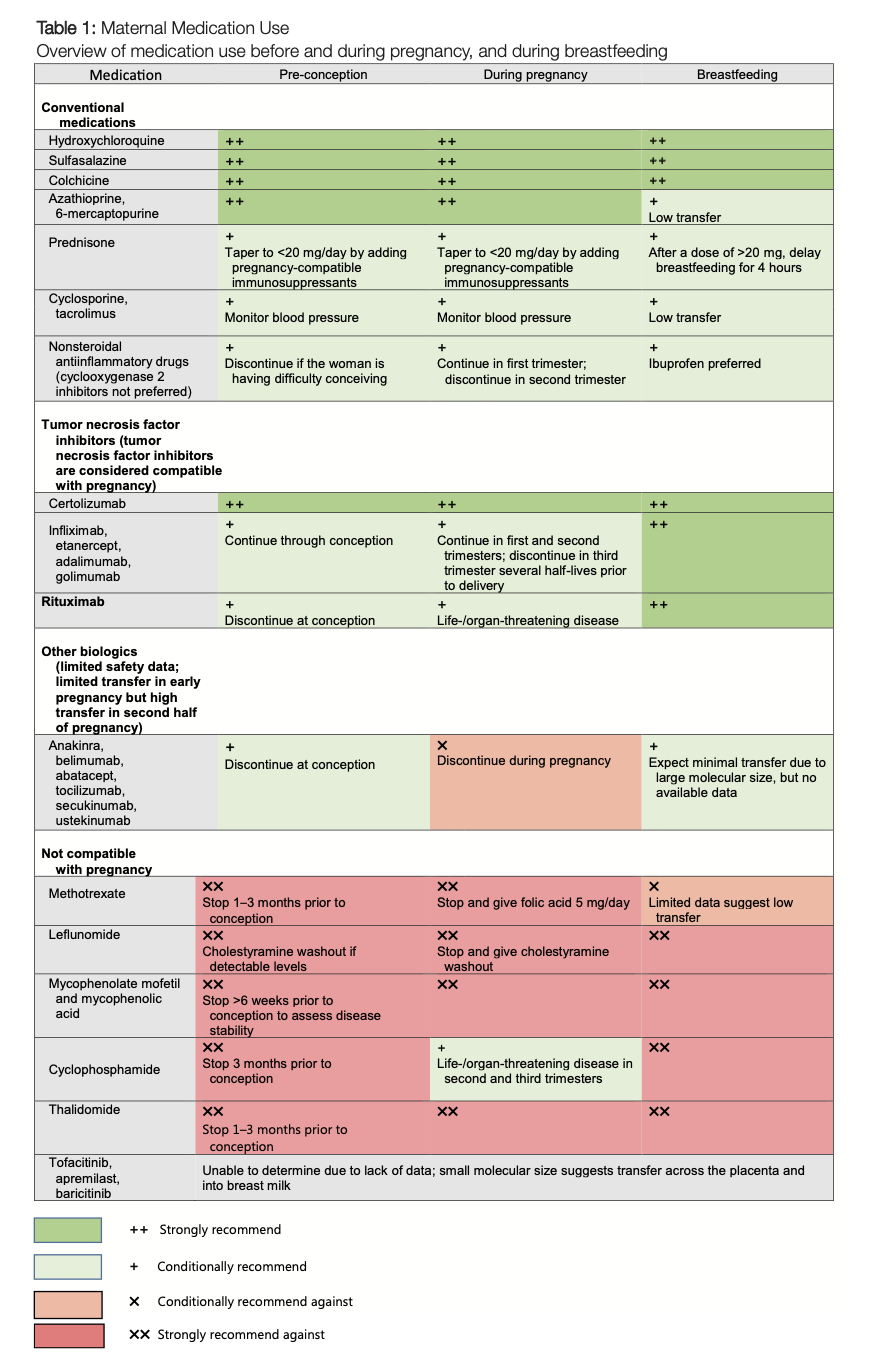 References
Kitchener C, Schaul K, Kirkpatrick N, et al. Abortion is now banned in these states. See where laws have changed. The Washington Post. 2022 Jul 7.
Methotrexate for pregnancy termination. Orlando Women's Center.
Davis-Porada J, Kim MY, Guerra MM, et al. Low frequency of flares during pregnancy and post-partum in stable lupus patients. Arthritis Res Ther. 2020 Mar 19;22(1):52.
Buyon JP, Kalunian KC, Ramsey-Goldman R, et al. Assessing disease activity in SLE patients during pregnancy. Lupus. 1999;8(8):677–684.
Buyon JP, Kim MY, Guerra MM, et al. Predictors of pregnancy outcomes in patients with lupus: A cohort study. Ann Intern Med. 2015 Aug 4;163(3):153–163.
Østensen M, Aune B, Husby G. Effect of pregnancy and hormonal changes on the activity of rheumatoid arthritis. Scand J Rheumatol. 1983;12(2):69–72.
van de Geijn FE, Roos A, de Man YA, et al. Mannose-binding lectin levels during pregnancy: A longitudinal study. Hum Reprod. 2007 Feb;22(2):362–371.
Birru Talabi M, Clowse MEB. Antirheumatic medications in pregnancy and breastfeeding. Curr Opin Rheumatol. 2020 May;32(3):238–246.
Derksen RHWM, Khamashta MA, Branch DW. Management of the obstetric antiphospholipid syndrome. Arthritis Rheum. 2004 Apr;50(4):1028–1039.
Izmirly P, Kim M, Friedman DM, et al. Hydroxychloroquine to prevent recurrent congenital heart block in fetuses of anti-SSA/Ro-positive mothers. J Am Coll Cardiol. 2020 Jul 21;76(3):292–302.
Sammaritano LR, Bermas BL, Chakravarty EE, et al. 2020 American College of Rheumatology Guideline for the Management of Reproductive Health in Rheumatic and Musculoskeletal Diseases. Arthritis Rheumatol. 2020 Apr;72(4):529–556.
National Library of Medicine (U.S.). IMPACT Study: IMProve pregnancy in APS with certolizumab therapy. Identifier NCT03152058. 2017 May.
National Library of Medicine (U.S.). Surveillance and treatment to prevent fetal atrioventricular block likely to occur quickly (STOP BLOQ). Identifier NCT04474223. 2020 Jul.
Lockshin MD, Guerra M, Salmon JE. Elective termination of pregnancy in autoimmune rheumatic diseases: experience from two databases. Arthritis Rheumatol. 2020 Aug;72(8):1325–1329.
Fitzpatrick J. Protecting people's privacy on health topics. The Keyword. 2022 Jul 1.
Additional Resources