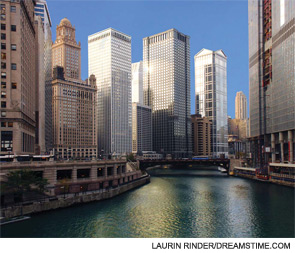 Don't miss your chance to see the sights of Chicago at this year's ACR/ARHP Annual Scientific Meeting.
Chicago is a city with remarkable shopping opportunities, upscale and trendy neighborhood boutiques, galleries, and specialty shops. Chicago's great magic lies in its mix: sophisticated-yet-friendly, bustling city streets adjacent to long stretches of green parks and sparkling blue Lake Michigan.
This year's ACR/ARHP Annual Scientific Meeting takes place in this magical place, which is also the city ACR Annual Meeting Planning Committee member, Anne-Marie Malfait, MD, PhD, calls home. The ACR sat down with Dr. Malfait to get insider information on the must-dos for annual meeting attendees.
ADVERTISEMENT
SCROLL TO CONTINUE
When asked what Chicago has to offer its visitors, Dr. Malfait notes there's "too much for just a few days! Chicago's most striking appeal is its architecture. As the birthplace of the skyscraper, Chicago offers magnificent buildings by Louis Sullivan, Mies van der Rohe, and Frank Lloyd Wright, while newer additions by Renzo Piano [who designed the Modern Wing of the Art Institute] and Frank Gehry [who designed the Pritzker Pavilion in Millennium Park] harmoniously blend into an incomparable skyline." Dr. Malfait enjoys "walking around admiring the facades and the diversity of the buildings," which is why her family often visits Millennium Park. She notes that, "it is a wonderful place to stroll around, to see the Cloudgate, and walk the bridge to the terrace of the Modern Wing, which offers a great view." Dr. Malfait's advice to visitors, "don't miss the always-changing Lurie garden with its 15-foot-high 'shoulder' hedge, a physical representation of Carl Sandburg's famous description of the 'City of Big Shoulders' that encloses and protects the gorgeous perennial garden." However, one of the best views in town is "a visit to the promontory, where the Adler Planetarium stands, for a beautiful view of the skylight by night," she says.
Taking in the Sites
Because Dr. Malfait is a recent transplant to Chicago, she says she is "still exploring the obvious things," which makes her the ideal tour guide. She recommends "having a drink on one of the many terrace bars—for instance in the Trump Tower—or on the 94th floor of the Hancock, as they offer great views of Lake Michigan and the skyline." However, when exploring, Dr. Malfait advises visitors to take advantage of the public transportation system, which "is cheap and very well organized," she says.
ADVERTISEMENT
SCROLL TO CONTINUE
"The El [the nickname for the Chicago Transit Authority trains] is fun, and takes you everywhere you need to be, except the Convention Center, unfortunately," shares Dr. Malfait. "Taking the green line west to Oak Park (a 25-minute ride) to explore Frank Lloyd Wright architecture, which includes touring his home and studio, is worthwhile, as [are] tours of the nearby Unity Temple." One thing not to miss is the Chicago Architectural Boat tour, which departs from the Michigan Avenue bridge. However, Dr. Malfait cautions, "make sure you dress warm!" She notes, "there is a nice little Bridge museum in one of the pillars of that bridge too."
Art Lovers
If you are an avid art lover, Dr. Malfait suggests that you cannot miss "the Art Institute, a concert at Symphony Hall to hear the Chicago Symphony Orchestra and music director Ricardo Muti, as well as the Lyric Opera of Chicago." However, the fun doesn't stop there because, she says, "there are numerous blues and jazz bars." One of Dr. Malfait's favorite places to visit is the International Museum of Surgical Science, located in a historic lakeside mansion by North Beach. "It has revolving exhibitions on medical/surgical issues and a permanent collection of fascinating medical artifacts, manuscripts, paintings and a library, all related to medicine," she says. Chicago boasts many other museums, such as the Oriental Institute and the Museum of Science and Industry.
Food Lovers
When you are ready to recharge, the city's endless assortment of restaurants is ready to match every taste because Chicago is a city of neighborhoods of all different cultures. There are Indian, Polish, Mexican, Middle Eastern, Italian, Greek, and Chinese neighborhoods that all offer an array of affordable dining. Dr. Malfait declares that, "there's an abundance of restaurants of every possible origin." For restaurants in the heart of town, Dr. Malfait encourages diners to check out Rhapsody, which is located on Adams Street, close to the Art Institute. She also loves the gastro-pub The Gage on Michigan Avenue. There is also a very good upscale Catalan tapas bar on Michigan Avenue called Mercat a la Planxa. A great Japanese restaurant is Japonais on W. Chicago Avenue in an old warehouse. For the real haute cuisine, Dr. Malfait recommends Alinea; however, she says, "the hottest ticket in town is a new restaurant called Next, where you need a ticket to get in!"
ADVERTISEMENT
SCROLL TO CONTINUE
For coffee runs, Dr. Malfait says she "pops into the Chicago Cultural Center, which is free, with its beautiful stained-glass Tiffany Dome and mosaics. There is always an interesting exhibition going on, it is a peaceful place to relax, and there are often free lunchtime concerts."
Dr. Malfait is looking forward to seeing you in Chicago for what is sure to be a superb meeting.
For more information about Chicago and the ACR/ARHP Annual Scientific Meeting, visit www.rheumatology.org/annual.