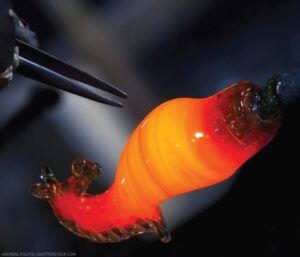 The glassblowers were in revolt.
The island of Murano, in the 13th century, was a perfect home for the glassblowing industry. Connected to Venice through a system of bridges, Murano was surrounded by waters that protected the city from the furnaces that fueled the glassblowers' craft. The Republic of Venice dominated trade throughout the Mediterranean, which created a natural market for its wares.1 Life was good.
Too good.
As the renown of the Venetian glassblowers increased, other cities attempted to woo them away. The most common proffers included debt forgiveness and immunity from the prosecutorial system. Rome had a unique trump card: The papal home was able to offer forgiveness of sins to an adequately gifted artisan who agreed to relocate to the Eternal City.2
The Venetian glassblowers' guild was aghast. The guild viewed glassblowing expertise as communal property, not belonging to any one artisan. The idea that any individual glassblower could pack his pipes and take that communal property to another city was anathema. The guild's initial response was predictable: It simply forbade artisans from leaving Venice. Glassblowers who gave away guild secrets were subject to heavy fines and disallowed from returning to Venice to ply their craft.3 This worked about as well as you might have expected. Once artisans were outside city limits, the Venetian guild had limited ability to enforce its punishments on the artisans who now fell under the protection of Rome or an equally powerful city. So the guild came up with another incentive: cold hard cash.
Venice realized its riches depended on constant innovation, both in glassblowing and other areas. To entice artisans to bring new skill sets to Venice, the Venetians created the Statute on Industrial Brevets on March 19, 1474, which stated:4
Any person in this city who makes any new and ingenious contrivance, not made heretofore in our dominion, shall, as soon as it is perfected so that it can be used and exercised, give notice of the same to our office of Provveditori de Comun [State Judicial Office], it being forbidden up to 10 years for any other person in any territory and place of ours to make a contrivance in the form and resemblance thereof, without the consent and license of the author.
Thus, the modern patent was born.
Since then, the principles underlying the patent have remained surprisingly static: To encourage innovation, the government grants a time-limited monopoly to the innovator. During this period, the innovator alone reaps the rewards of their labors. When the monopoly expires, the information underlying the patent disseminates to spur further innovation.