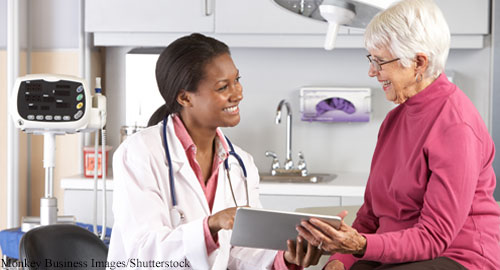 Functional ability, engaging in self-care and daily interaction with others can be difficult for patients living with primary Sjögren's syndrome (SS). Research conducted by Katie L. Hackett, BSc(Hons), MSc, PhD, Northumbria University and Newcastle upon Tyne Hospitals NHS Foundation Trust, U.K., and colleagues on behalf of the United Kingdom Primary Sjögren's Syndrome Registry sought to uncover the key barriers and priorities to participation in daily living activities for SS patients.
You Might Also Like
Also By This Author
"Patients, firstly, want to be taken seriously and, secondly, want support to manage their symptoms themselves," according to the study's findings.1 In her work as an associate professor of occupational therapy and clinical academic occupational therapist, Dr. Hackett investigates complex interventions in chronic disease.
ADVERTISEMENT
SCROLL TO CONTINUE
For the study, funded by Arthritis Research UK, the United Kingdom Occupational Therapy Research Foundation and The Constance Owens Trust, Dr. Hackett and her colleagues sought the input of SS patients, their family members and medical providers, to develop a comprehensive view of the barriers that make it difficult for SS patients to take charge of their daily lives and well-being.
Using group concept mapping, multidimensional scaling and hierarchical cluster analysis, the researchers distilled 463 ideas from study participants down to 94 statements. These statements were categorized by order of participant-noted priority:
ADVERTISEMENT
SCROLL TO CONTINUE
Patient empowerment;
Symptoms;
Well-being;
Access and coordination of healthcare;
Knowledge and support;
Public awareness and support; and
Friends and family.
Dr. Hackett says stakeholders agreed that three main interventions—considering more symptoms, collaborative support and understanding needs from different perspectives—were the most important to help SS patients live their fullest lives.
1. Consider a Broader Range of Symptoms
Rheumatologists need to ask patients about a wide range of complications and dryness symptoms, as well as pain, fatigue and disturbed sleep. These additional symptoms—as well as dryness—are priorities for patients she says. "By providing patients opportunities to access appropriate support to better self-manage these symptoms, we may be able to [have a] positive impact on patients' quality of life and on their ability to better participate in their daily activities."
2. Provide Collaborative Support Opportunities
"Good communication between different clinicians is essential, because the needs of each patient are unique, and any patient may require access to different types of support at different times," Dr. Hackett says.
ADVERTISEMENT
SCROLL TO CONTINUE
Patients in the study stressed the value of a "one-stop clinic," where all relevant healthcare professionals are available. "If this were a reality, one may expect that the number of appointments and clinic visits could be reduced for patients, decreasing this burden. In turn, this would facilitate communication between different members of the care team," she says.