As a clinical researcher and faculty member at Albany Medical College in Albany, New York, Joel M. Kremer, MD, often chafed at what he believed were misperceptions about clinical research. By the year 2000, having just been appointed director of research at The Center for Rheumatology in Albany, he believed that forming a registry comprised of clinical investigators would create a united front—and increase institutional respect for clinical research. At the same time, the increasing use of biologic agents in inflammatory rheumatic diseases was raising questions about cost, safety, and effectiveness—questions for which rheumatologists and their patients could use some answers in making treatment decisions. Dr. Kremer approached major pharmaceutical companies with a proposition: in return for their multiyear subscriptions, he and his team would build a patient registry that would systematically collect a host of treatment and disease indicators for a variety of inflammatory rheumatic diseases at every physician visit.
You Might Also Like
Explore This Issue
December 2012
Also By This Author
ADVERTISEMENT
SCROLL TO CONTINUE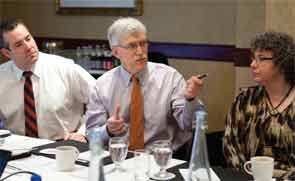 Drs. Cavan, Harrington, and CORRONA Controller Lisa Lemire (left to right).
By 2001, the Consortium of Rheumatology Researchers of North America, Inc. (CORRONA) was launched and began to enroll its first patients. Today, CORRONA is generally recognized as the largest rheumatologic registry in the world. As of late September, it had enrolled 39,963 patients with rheumatoid arthritis, psoriatic arthritis, and gout. All other forms of spondylarthritis, in addition to psoriatic arthritis, will be added in early 2013; the organization has also gone international, with a total of 10 additional countries. The CORRONA network of 100 affiliated rheumatology practices in 40 states has now reported on more than 250,387 office visits conducted with their patients and over 80,000 patient-years of data. The rich database, run by internal biostatistics and epidemiologist staff members, and directed by esteemed biostatistician George Reed, PhD, associate professor in the division of preventive and behavioral medicine at the University of Massachusetts Medical School in Worcester, handles scores of scientific queries from researchers worldwide.
The Rheumatologist recently spoke with several leading CORRONA officers and investigators about the factors that have contributed to the registry's exponential growth.
ADVERTISEMENT
SCROLL TO CONTINUE
Data Collection and Practice Efficiency
AUDIO EXCLUSIVE: J. Timothy (Tim) Harrington, MD, discusses quality improvement and CORRONA.
One of Dr. Kremer's initial premises when establishing the registry was to acknowledge the barriers to participation for private practitioners. "Filling out forms was counterintuitive to physicians," he explains. "Completing forms has to be workable in the context of their busy day, so we recognized early on that initially they had to be paid for [completing] the forms." Jeffrey Greenberg, MD, MPH, assistant professor and associate director for clinical translational sciences at NYU's Hospital for Joint Diseases in New York City, and CORRONA's chief scientific officer, believes that Dr. Kremer's recognition of the time factor has been key for attracting participants. "There is a delicate balance for collecting data in a busy clinical practice," he notes. "Dr. Kremer's recognition of that is one factor that has allowed CORRONA to grow."