Explore This Issue
May 2013
Also By This Author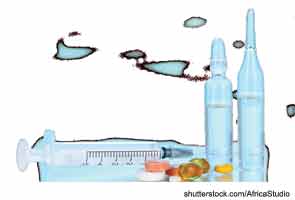 SNOWMASS, COLO.—Audience participation was enthusiastic during a session titled, "Panel on Therapy," here at the ACR Winter Rheumatology Symposium, held January 26–February 1, 2013. Four experts convened onstage to respond to questions about current therapies for rheumatic disease. The panel included the moderator, Michael E. Weinblatt, MD, John R. Riedman Professor of Medicine at Brigham and Women's Hospital in Boston, Mass., as well as Christopher T. Ritchlin, MD, MPH, professor of medicine at the University of Rochester Medical Center in Rochester, N.Y.; Joel M. Kremer, MD, director of research at the Center for Rheumatology, Albany, N.Y.; and Eric L. Matteson, MD, chair of the division of rheumatology at the Mayo Clinic in Rochester, Minn. Topics of discussion ranged from biologics to combination therapy, and the foursome frequently cited research findings to support their recommendations, reinforcing the importance of understanding the evidence and not extrapolating beyond it.
ADVERTISEMENT
SCROLL TO CONTINUE
Zoster Vaccination
To start the evening session, Dr. Weinblatt posed a question to the panel regarding appropriate timing for starting a biologic after a patient receives the zoster vaccine. Drs. Matteson and Weinblatt agreed that four weeks was a reasonable timeframe. "Data from the literature suggests that is an adequate period to ensure that there's not going to be dissemination, but it's not a hard rule," Dr. Matteson stated.
Dr. Weinblatt noted that the Centers for Disease Control and Prevention recently changed its guidelines regarding the shingles vaccine and now allows patients who are taking low-dose corticosteroids and low-dose methotrexate to be vaccinated. He uses it routinely in patients starting methotrexate, and recommends that his patients under age 50 get the vaccine. "It's only 50–60% effective, but if I'm going to place you on another drug down the road, now's the time to do it rather than waiting," he said.
ADVERTISEMENT
SCROLL TO CONTINUE
Because zoster is a live vaccine, Dr. Weinblatt recommended holding anti–tumor necrosis factor (TNF) medications and other biologics for a month before and after vaccination. Inactivated zoster vaccines also are under development, Dr. Weinblatt added.
Complications: Infections and Ulcers
Immune suppression, infections, and nonhealing ulcers can complicate therapy decisions. For example, RA patients who are taking biologics are at risk for developing atypical Mycobacterium infection (Mycobacerium intracellulare [MAI]), Dr. Weinblatt noted. For an RA patient who is well controlled on methotrexate and develops MAI, taking the patient off infliximab results in the RA flaring. The panel was asked what to do next.