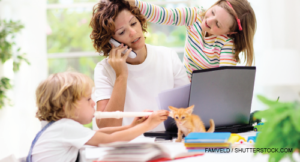 The COVID-19 pandemic changed pretty much every facet of human activity, from home life to social interactions to the workplace. Medicine and research kept up a dizzying pace throughout the pandemic, with physicians and researchers working clinic hours even if they were able to use telemedicine to do some of their work from home.
You Might Also Like
Explore This Issue
September 2021
Also By This Author
For physician parents, home responsibilities increased exponentially as schools went virtual, nannies stayed home and childcare centers shut down. This left parents to not only monitor their children's needs 24/7, but to try to do that while also being productive at work.
ADVERTISEMENT
SCROLL TO CONTINUE
"We live in this house of cards that is very fragile to begin with, and COVID was just a wrecking ball," says Irene Blanco, MD, MS, associate professor of medicine, associate dean of diversity enhancement, and rheumatology fellowship program director at Albert Einstein College of Medicine, the Bronx, N.Y. "Whatever fragile support system you may have created was going to take a massive hit."
Certainly, both men and women were affected by the chaos of COVID-19, but studies are showing that the burden of the pandemic disproportionately affected women—and even more disproportionately affected women of color. To address disparities in academic rheumatology, it's time to do away with some of the sacred cows that define "success" and get everyone on an equal footing in the workplace.
ADVERTISEMENT
SCROLL TO CONTINUE
Pandemic Effects
Gender and racial disparities exist in all sorts of workplaces, including academia and medicine, and the pressures of the pandemic stressed those disparities and widened the gaps.
"In our normal everyday lives, women don't get published as much as men, women don't get their grants as often as men do. Career advancement is slower for women. There are fewer women in positions of power," says Ashira Blazer, MD, MSCI, assistant professor of medicine, Division of Rheumatology, NYU Langone Health. "I think we've decided that's normal, and we tolerate it. But it's not normal. It's institutionalized sexism, and now we have a stressor and it's even louder. It's so glaring, you can't look away."
Looking at employment numbers alone, women account for the majority of pandemic-related job losses. Between February and December 2020, women lost more than 5.4 million net jobs and accounted for 55% of overall net job loss.1 This exodus from the workforce, even if it's temporary, affects not only current income but future income, retirement benefits and promotions. Taken together, the U.S. women who stopped working in 2020 could lose $885 billion in two years, and this phenomenon could widen the gender wage gap for at least 20 more years.2
ADVERTISEMENT
SCROLL TO CONTINUE
Women scientists are also facing slowing of their income potential and career progression because some of the main determinants of success—publishing papers and getting grants—were decreased among women during the pandemic. According to an article in The New York Times, "women have published fewer papers, led fewer clinical trials and received less recognition for their expertise during the pandemic [than prepandemic]."3
The pandemic didn't cause this issue, because women already published less and received fewer grants than men before COVID-19.4,5 In academic rheumatology, disparities in promotions existed prepandemic, too, with women being less likely to be listed as senior authors on papers or to be promoted to full or associate professors.6,7
In a commentary in Nature Reviews Rheumatology, Dr. Blanco and her co-author, Shereen N. Mahmoud, MD, noted that most women in rheuma­tology aren't on traditional tenure tracks; rather, they tend to be clinician-educators, which puts them at higher risk of leaving academia. What's more, because promotions often rely on publishing, clinician-educators may be at a disadvantage compared with their peers in other tracks.8
Some of this burden is related to motherhood and the time needed for maternity leave and childcare. "Research isn't necessarily a 9-to-5 job," says Rebecca Haberman, MD, a clinical instructor in the Department of Medicine at the NYU Grossman School of Medicine. "When you're doing research, when that data comes in, that's when you're analyzing it. When the grant cycles are, that's when you're submitting it. Research doesn't wait for you."
Maria Danila, MD, MSc, MSPH, physician-scientist at the University of Alabama at Birmingham, applied for more grants and did more research during the pandemic than before. One reason is that she identified an opportunity and designed an outcomes study—satisfaction and success of using telemedicine, for which she was awarded a research grant from the Rheumatology Research Foundation—that could only be performed during such a unique time. With two kids at home, Dr. Danila coordinated with her husband to manage home duties, oversee virtual school and keep up with an increased workload, but it affected her home life and her children.
"It's hard for me to hear, 'Mom, you work all the time,'" she says. "While it's true at times, when there are grant and project deadlines, that creates an internal conflict, and I think you feel pulled in different directions by your professional and personal life."
Colleen K. Correll, MD, MPH, who also has two young children and a supportive partner at home, says she went into "survival mode" during the pandemic.
"Like a lot of people, I was just trying to stay afloat and basically was trying to do as much work as I could but also trying to take care of my kids," says Dr. Correll, who is a pediatric rheumatologist at the University of Minnesota, Minneapolis. "I'm in a much better place now—both of my kids are back in school full time—but looking back at that time, which wasn't that long ago but in certain ways feels like forever ago, it was insane."
In addition to the pandemic in 2020, the U.S. is also dealing with a "racial reckoning" that intensified after George Floyd was killed, notes Dr. Blazer. This environment put more pressure on people of color, who have since been asked to tackle the hard work of addressing systemic racism.
Dr. Blazer worked "from morning to night," she says, to contribute toward the pandemic efforts, promote diversity, equity and inclusion (DEI), and support her family and community during the pandemic. She taught and lectured more, had added responsibilities at home and took care of family members with COVID-19, which affected communities of color disproportionately.9
Providing Support Systems
As we recover from the pandemic, there are lessons to be learned. The disparities that existed before remain and are even starker, which will require thoughtful responses and planning for the future to put everyone on equal footing. Part of the solution entails combating bias, reimagining the metrics of success and implementing support systems.
Bias in science is not new. For example, women and minorities tend to be invited to serve as peer reviewers less often.10 And there is a well-recognized pay gap for women physicians.11
One way to support women and minorities in academia is to adjust the metrics of success for promotion and tenure decisions beyond publishing papers and getting grants.
"Recognize other very important roles that women are playing or successes they're having that maybe aren't [traditionally thought of as] the most important thing in science," Dr. Correll says. "Think a little outside the box of what is success and then recognize that success."
Giving credit for activities like educational programs or committee service and adjusting the tenure clock are a couple of examples. One successful grant application may be the result of 10 attempts, Dr. Danila notes, and recognizing overall effort in addition to successes could make a huge difference.
Promoting more women to leadership positions will help encourage those who follow to strive for top posts, as well. Dr. Haberman notes that the rheumatology division chief at NYU is a woman—Jill P. Buyon, MD—which provides systemic support for other women.
"Having that role model or seeing that she's able to achieve that position makes me think I can achieve that position," she says.
Building a community support system to help women and minorities succeed can make all the difference, too. If mentorship programs aren't available locally, there are national programs that can help.
"Being immersed in a group of people who were like me, going through similar struggles, [and having] mentors, who even if they weren't minorities at least had dedicated their lives to seeing my experience, was very validating and gave me the encouragement to keep going," Dr. Blazer says of her experience with NIH Pride.
Additional ways to support women in the workplace include offering on-site childcare and drop-in day care, or increasing the use of telemedicine as needed to offer physicians some flexibility.
Rebalancing
Now that life is moving toward some semblance of normalcy, everyone needs extra support to rediscover (or discover for the first time) some work-life balance.
"Many people I know worked more during the pandemic than before, and I think that's a problem as we move into this next phase of post-pandemic or peri-pandemic, where the balance, if it existed, doesn't exist anymore," Dr. Danila says. "There is no cutoff between work and life."
Any solutions that are implemented institutionally can't be one-size-fits-all and should take into account everyone's lived experiences. Focusing on those who need the most support effectively helps everyone and will support women and minorities.
"If we are to retain women in the workforce, we're really going to have to be mindful of what resources they need to be successful," Dr. Blanco says. "And as women, hopefully, we'll keep unifying our collective voices to say, 'No, I need this. We need this.'"
---
Kimberly Retzlaff is a freelance medical journalist based in Denver.
References
Ewing-Nelson C. All of the jobs lost in December were women's jobs. 2021. Washington, DC: National Women's Law Center.
Peck E. Exclusive: Pandemic could cost typical American woman nearly $600,000 in lifetime income. Newsweek. 2021 May 26.
Mandavalli A. Could the pandemic prompt an 'epidemic of loss' of women in the sciences? The New York Times. 2021 Apr 13.
Kaatz A, Gutierrez B, Carnes M. Threats to objectivity in peer review: The case of gender. Trends Pharmacol Sci. 2014 Aug;35(8):371–373.
Kibbe MR. Consequences of the COVID-19 pandemic on manuscript submissions by women. JAMA Surg. 2020;155(9):803–804.
Jorge A, Bolster M, Fu X, et al. The association between physician gender and career advancement among academic rheumatologists in the United States. Arthritis Rheumatol. 2021 Jan;73(1):168–172.
Bagga E, Stewart S, Gamble GD, et al. Representation of women as authors of rheumatology research articles. Arthritis Rheumatol. 2021 Jan;73(1):162–167.
Mahmood SN, Blanco I. The road to equity for women in academic rheumatology. Nat Rev Rheumatol. 2020 Dec;16(12):669–670.
Owen WF Jr., Carmona R, Pomeroy C. Failing another national stress test on health disparities. JAMA. 2020 May 19;323(19):1905.
Lerback J, Hanson B. Journals invite too few women to referee. Nature. 2017 Jan 25;541(7638):455–457.
Lo Sasso AT, Armstrong D, Forte G, Gerber SE. Differences in starting pay for male and female physicians persist; explanations for the gender gap remain elusive. Health Aff (Millwood). 2020 Feb;39(2):256–263.