---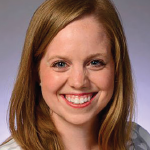 Elizabeth Sloan, MD, is a pediatric rheumatologist who recently completed her fellowship training at UT Southwestern Medical Center, Dallas, and looks forward to joining the faculty of the Division of Pediatric Rheumatology at UT Southwestern in the fall of 2021. Dr. Sloan has also served on the ACR FIT Subcommittee and the ACR Special Committee on Pediatric Rheumatology.
References
Behladjer Z, Auriau J, Meot M, et al. Addition of corticosteroids to immunoglobulins is associated with recovery of cardiac function in multi-inflammatory syndrome in children. Circulation. 2020 Dec 8;142(23):2282–2284.
Ouldali N, Toubiana J, Antona D, et al. Association of intravenous immunoglobulins plus methylprednisolone vs immunoglobulins alone with course of fever in multisystem inflammatory syndrome in children. JAMA. 2021 Mar 2;325(9):855–864.
Wahezi DM, Lo MS, Rubinstein TB, et al. American College of Rheumatology Guidance for the management of pediatric rheumatic disease during the COVID-19 pandemic: Version 2. Arthritis Rheumatol. 2021 Aug;73(8):e46-e59.