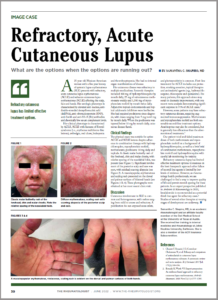 As a dermatologist/internist with a career-long subspecialty interest in the cutaneous manifestations of the rheumatic diseases, I found the case of refractory acute cutaneous lupus by Samantha C. Shapiro, MD, in the June 2022 issue of The Rheumatologist intriguing in several ways, and I felt my perspectives on this case might provide additional educational value to the rheumatologist readership.
Diagnosis & Classification
The clinical photos of the patient being discussed suggest a generalized inflammatory skin disorder (i.e., skin lesions both above and below the neck) occurring in the context of a five-year history of systemic lupus erythematosus (SLE). However, the historical duration of the skin changes was not given. The patient's serologic phenotype was very active at the time of presentation, including anti-double-stranded DNA, RNP, Sm and Ro/SS-A autoantibodies, as well as chronically low serum complement levels. In addition, the patient had leukopenia and thrombocytopenia. However, it is stated that the patient had no internal SLE target-organ disease manifestations.
ADVERTISEMENT
SCROLL TO CONTINUE
Had a lesional skin biopsy been performed in this case, it could be presumed it would have demonstrated an interface dermatitis, as would be expected for any form of lupus-specific skin disease. Biopsies of acute cutaneous lupus erythematosus (ACLE) and subacute cutaneous lupus erythematosus (SCLE) lesions have a lymphoid cell-rich inflammatory infiltrate focused at the dermal-epidermal junction with damage to the epidermal basal cell layer (i.e., an interface dermatitis). In addition to displaying an interface dermatitis, biopsies of discoid SLE lesions can also show deep reticular dermis inflammation and damaged skin appendages, such as hair follicles and sweat glands, and result in atrophic scarring. This deeper dermal inflammation in discoid SLE lesions can produce clinical induration, which is characteristically not seen in either ACLE or SCLE lesions.
In the case discussion, it was suggested the skin findings consisted of a combination of ACLE and SCLE lesions. In the early epidemiologic studies of SCLE, it was recognized that SCLE can overlap with either ACLE or classic discoid lupus erythematosus in approximately 20% of cases.1
ADVERTISEMENT
SCROLL TO CONTINUE
The case discussion mentioned scarring alopecia on the posterior scalp of this patient. Neither ACLE nor SCLE produce confluent scarring alopecia of the scalp, nor scarring on other parts of the body. In addition, SCLE lesions are characteristically observed on the trunk, with sparing of the central face. These aspects, plus the prominent papulosquamous scale on the skin lesions of this patient, raise the possibility that she could be suffering from a generalized form of classical discoid lupus erythematosus rather than an overlap of ACLE and SCLE. Although uncommon, discoid lupus erythematosus can involve the "butterfly" distribution of facial skin. And generalized classical discoid lupus erythematosus can, at times, be more refractory to treatment than either ACLE or SCLE.