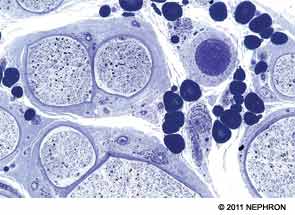 Micrograph of vasculitic neuropathy.
MADRID—Assessing whether patients with rheumatic diseases have peripheral neuropathy—and determining the right treatment course—can a somewhat complicated process, but it can be a key part of a patient's overall care, experts said here at the European League Against Rheumatism (EULAR) 2013 Annual European Congress of Rheumatology, held June 12–15.
Peripheral neuropathy is common in patients with a rheumatic disease, and addressing these concerns involves answering several questions, said Yvonne Lee, MD, assistant professor of medicine at Harvard Medical School in Boston.
| | |

Next →

|
Single Page