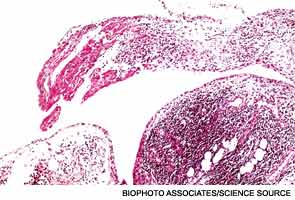 Light micrograph through the synovial membrane, which is thickened with layers of fibrin (bright pink), and fluid has leaked into the joint space.
You Might Also Like
Explore This Issue
August 2014
Also By This Author
PARIS, FRANCE—The past year's research on rheumatoid arthritis (RA) largely reinforces the view that it's okay to begin treatment with methotrexate with the option of stepping up treatment when necessary, said John Isaacs, MD, PhD, professor of rheumatology at Newcastle University, United Kingdom.
ADVERTISEMENT
SCROLL TO CONTINUE
In a review of work on spondyloarthritis and ankylosing spondylitis, Dominique Baeten, MD, PhD, head of the Department of Immunology and Rheumatology at the University of Amsterdam, The Netherlands, said functional genomics has allowed the pathophysiology of the disease to be more fully explored, and he reviewed the latest treatment studies on TNF inhibitors and bone formation.
The experts made their remarks in a What Is New session at the Annual European Congress of Rheumatology (EULAR 2014) in June, essentially an expert's guided tour through the literature since the last meeting of the European League Against Rheumatism in June 2013.
ADVERTISEMENT
SCROLL TO CONTINUE
RA Research
Dr. Isaacs made these observations about the RA literature:
Anti-IL-6 drugs—sarilumab, olokizumab and sirukumab—all "look promising," as does MOR103, a human monoclonal antibody to granulocyte-macrophage-colony-stimulating factor. But he stressed that they were all early-phase results.
Several studies—including the TEAR trial—showed that starting patients on methotrexate, then moving on to combination therapy when the response was insufficient, was a viable strategy.1
ADVERTISEMENT
SCROLL TO CONTINUE

Dr. Isaacs
"It is probably okay to start with methotrexate, as long as you're prepared to step up fairly quickly, probably to combination DMARDs (disease-modifying antirheumatic drugs), at three months," Dr. Isaacs said.
One study showed that gluco­corticoids in RA are associated with a dose-dependent increase in mortality rates, with a daily threshold at 8 mg, at which the dose-dependent mortality begins to be seen. This might help clinicians determine dosage.2
"We need to be aware of this when we use glucocorticoids in our daily practice," he said. "They're not benign drugs even though they're very effective anti­inflammatory drugs."
A head-to-head trial of subcutaneous abatacept, which blocks T-cell activity, and subcutaneous adalimumab, a TNF blocker, in biologic-naive patients with a background of methotrexate found the drugs to be equivalent at one and two years, with slightly more serious adverse events in the adalimumab group. The trial shows that patients don't necessarily have to start biologic therapy with a TNF inhibitor.3
In the HONOR study, researchers looked at withdrawal from biologics once patients reach remission. Those with shorter disease duration were more likely to reach remission on adalimumab, and once withdrawn from the treatment, a post hoc analysis suggested that those in deep remission (with a DAS28-ESR of less than or equal to 1.98) showed similar rates of flares to those who were in remission but stayed on the drug.4