Dr. Smolen
In his medical school days, Josef S. Smolen, MD, was already revealing himself as a "glass half full" kind of person. As proof, consider the following anecdote:
You Might Also Like
Explore This Issue
January 2008
Also By This Author
"When I selected rheumatology," Dr. Smolen recalls with a slight chuckle, "my colleagues in nephrology, cardiology, and endocrinology asked me why I was so crazy to select an area where so little could be done.
ADVERTISEMENT
SCROLL TO CONTINUE
"My answer to them was: a) if little could be done, that would be changed; and b) that this was an area where research could be performed yielding more information on pathogenesis and one might be able to find new remedies."
Dr. Smolen sensed that rheumatology would offer opportunity not only for investigation, but also for helping to reduce burden on patients. "Where there is a lot of burden, even relatively small reductions may mean a lot to the people who are affected," he says. In the three decades since he completed medical school, Dr. Smolen's inherent optimism and tireless investigations have yielded important intellectual advancements in the field of rheumatology.
ADVERTISEMENT
SCROLL TO CONTINUE
Dr. Smolen is chair of the division of rheumatology at the Medical University of Vienna in Austria and chair of the second department of medicine at the Center for Rheumatic Diseases at Hietzing Hospital in Vienna. He has published over 200 papers in rheumatology and immunology and is perhaps best known for his group's work on revealing novel pathogenic insights pivotally involved in the evolution of new treatments for RA, such as leflunomide and biologic agents. He is also known for his new look at outcomes in RA, especially the development of the Simplified and the Clinical Disease Activity Indices (SDAI and CDAI), the latter in close collaboration with Daniel Aletaha, MD, a rheumatology fellow at the Medical University of Vienna.
Dr. Smolen has established his department as an important center in the international rheumatology community, helping to usher in huge leaps in our understanding of the disease, as well as advancing treatment improvements. "Josef has been a beacon of the development of informed, scientifically based rheumatology in Europe," says Peter E. Lipsky, MD, chief of the autoimmunity branch of the National Institute of Arthritis and Musculoskeletal and Skin Diseases (NIAMS) in Bethesda, Md., and a long-time colleague of Dr. Smolen.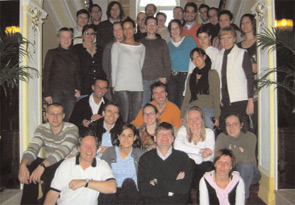 Dr. Smolen (bottom left, white shirt) with his rheumatology colleagues at a recent retreat.
Fascinated by Immunological Problems
Dr. Smolen says that, for him, the choice of rheumatology was a natural one. As a medical student, he was fascinated by immunological problems and autoimmune diseases, which were not well understood in the late 60s and early 70s when he attended the University of Vienna. After receiving his MD in 1974, he followed his interests in immunological disease and became a fellow at the university's Institute of Immunology, studying under his mentor, Professor Carl Steffen.