The primary outcome—sustained steroid-free remission at 52 weeks—was achieved in significantly more patients treated with tocilizumab (56% and 53% for groups 1 and 2, respectively) than in those treated with placebo (14% and 18% for groups 3 and 4, respectively). In addition, the patients receiving tocilizumab required significantly less prednisone than patients in the placebo groups, and the number of adverse events was similar across all groups. This study indicates that tocilizumab is a new potential treatment for GCA—after decades of a paucity of options beyond corticosteroids.
Explore This Issue
May 2018
Also By This Author
Dr. Manno's update on GCA helped shed light on this interesting condition and showed that, although patients may experience stormy weather when being evaluated and treated for this condition, new research on diagnosis and treatment indicate blue skies on the horizon for our understanding of the disease.
ADVERTISEMENT
SCROLL TO CONTINUE
---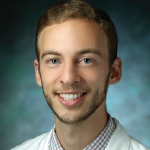 Jason Liebowitz is a first-year fellow in rheumatology at Johns Hopkins University. He earned his MD from Johns Hopkins University Medical School and completed his residency at Johns Hopkins Bayview. He has been published in JAMA Internal Medicine, The American Journal of Medicine, Medical Humanities, The Baltimore Sun and MedPage Today.
References
Grayson PC, Alehashemi S, Bagheri AA, et al. 18F-fluorodeoxyglucose-positron emission tomography as an imaging biomarker in a prospective, longitudinal cohort of patients with large vessel vasculitis. Arthritis Rheumatol. 2018 Mar;70(3):439–449.
Yates M, MacGregor AJ, Robson J, et al. The association of vascular risk factors with visual loss in giant cell arteritis. Rheumatology (Oxford). 2017 Apr 1;56(4):524–528.
Stone JH, Tuckwell K, Dimonaco S et al. Trial of tocilizumab in giant-cell arteritis. N Engl J Med. 2017 Jul 27;377(4):317–328.