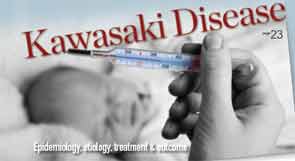 Kawasaki disease (KD) was first described in 1967 as the mucocutaneous lymph node syndrome by a Japanese pediatrician, Tomisaku Kawasaki.1 In exacting detail, he described 50 cases of children with fever, rash and other findings of unclear etiology that he had observed over a six-year period. Interestingly, two pediatricians at the University of Hawaii, Marian Melish, MD, and Raquel Hicks, MD, had observed patients with a similar constellation of signs and symptoms in the early 1970s. It quickly became clear that the physicians separated by the Pacific Ocean were seeing the same syndrome.
When first reported, KD had no etiology, no treatment and no apparent sequelae. In the ensuing years, effective treatment and the potentially devastating coronary artery disease associated with KD were well described. The etiology remains unknown.
Epidemiology
KD is a disease of young children, with the majority of cases occurring in children younger than 5 years old. Although it has been described throughout the world, a genetic susceptibility likely underpins the higher incidence in Japanese and Korean children compared with children in the U.S. and European countries.
Epidemiologic data has been collected in Japan every two years since 1970, with the most recent KD incidence rate documented at 239.6 per 100,000 children age 0–4 years in 2010. The incidence rate of KD among South Korean children in 2011 was 134.4 per 100,000 in children younger than 5 years old. In contrast, the U.S. hospitalization rate for KD in children younger than 5 years old was 20.8 per 100,000 in 2006.
It should be noted that although KD is less common in very young babies under 6 months old and children who are older than 5 years old, these children are in fact at higher risk for coronary artery involvement, and the diagnosis should be entertained in persistently febrile children in these age groups.
To capture infants at a stage when the disease is treatable, the American Heart Association (AHA) has recommended that children 6 months or younger with fever of seven days or longer duration of unclear etiology who have evidence of systemic inflammation on laboratory studies should undergo echocardiography, regardless of the absence of other stigmata of KD.2
Boys are more likely than girls to be affected by KD and are more likely to have coronary artery involvement. Although it is very unusual for a pair of siblings to have KD concurrently, parents of children with KD in Japan are twice as likely to have had an episode of KD themselves when they were children.