Sebastian E. Sattui, MD, MS, Joins UPMC as Director of Vasculitis Center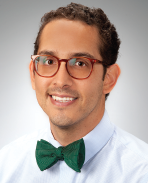 On July 1, Sebastian E. Sattui, MD, MS, assumed an appointment as director of the University of Pittsburgh Medical Center (UPMC) Vasculitis Center. Between his rheuma­tology and vasculitis fellowships at Weill Cornell Medical College/Hospital for Special Surgery, New York, Dr. Sattui, who is also now assistant professor of medicine at the University of Pittsburgh School of Medicine, has spent four years preparing for this role.
You Might Also Like
Explore This Issue
October 2021
Also By This Author
His initial tasks at UPMC involve establishing collaborations with colleagues in other specialties to provide the multispecialty care required to secure good outcomes for patients with vasculitis and polymyalgia rheumatica (PMR). He's also intent upon helping to streamline patients' interface with the medical center. "It's already hard enough [for patients to have] a complex chronic condition, even more so new patients, so we are trying to help them navigate the medical system and make the process easier and more efficient," he says. "Our goal is to provide timely and multidisciplinary care to all patients."
ADVERTISEMENT
SCROLL TO CONTINUE
Dr. Sattui's recent clinical research has focused on evaluating mitochondrial DNA as a measure of disease activity in vasculitis, and he will continue collaborations in that vein following wrap-up of a pilot study with colleagues at the Hospital for Special Surgery (HSS), New York, including Robert S. Spiera, MD, director of the HSS Scleroderma, Vasculitis and Myositis Center, as well as Lindsay S. Lally, MD, assistant professor of medicine at Weill Cornell Medical College.
Dr. Sattui is also focusing on research involving the compounding factors of frailty in patients with vasculitis and PMR to work toward improving the quality of life of patients living with these conditions. The overlap between frailty and these conditions will continue to be relevant, he believes, because of the age of the population affected. With his new position, there will be abundant opportunity to elucidate the effects of frailty.
ADVERTISEMENT
SCROLL TO CONTINUE
He has also participated in an ACR-funded international survey of the health behaviors of people with rheumatic disease during the pandemic, which found the majority of these patients had maintained their therapy and followed public health advice to mitigate the risks of COVID-19 exposure.
Carol M. Ziminski, MD, Presented with Award for Excellence in Teaching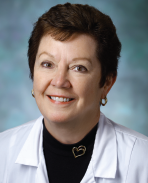 An academic rheumatologist renowned and often celebrated throughout her nearly 40-year career for her commitment to teaching, Carol M. Ziminski, MD, rates her recent award, the Professors' Award for Excellence in Teaching to a member of the part-time faculty, high on her list of proud achievements. "I was surprised and delighted when I got the news," she said, upon learning of the award, which was announced at the Johns Hopkins School of Medicine, Baltimore, convocation in late May.
Also high on her list of proud career achievements is her time as the Department of Medicine's first woman assistant chief of service, a position she held during the 1981–82 academic year. She was just past her Osler internship and residency years when the late Victor McKusick, MD, appointed her to the post. Still a rheumatology fellow at the time, Dr. Ziminski consulted her valued mentor, the late Mary Betty Stevens, MD, when making her decision to accept the appointment.
ADVERTISEMENT
SCROLL TO CONTINUE
Dr. Stevens, who as the first woman director of the division of rheumatology was also a trailblazer, gave her a full endorsement. Even after she was hired as a junior faculty member, Dr. Ziminski still made it a point to round with Dr. Stevens. The latter's ability to interact with and listen to patients became one of the through-lines in Dr. Ziminski's own teaching methods.
The late Philip A. Tumulty, MD, was another role model, who emphasized in his book, The Effective Clinician, and his own teaching the primary importance of history taking to determine accurate diagnoses. As a core faculty member of the Vivian Thomas College's Advisory Program, Dr. Ziminski continues to draw on the principles of listening to and observing the patient to make clinical determinations critical to diagnosis and passes on those principles to her advisees.
She says she has also benefited from the example of Antony Rosen, MD, the current director of the Division of Rheumatology, who has championed the pursuit of excellence in the division.
Dr. Ziminski was previously honored with a Hopkins Hero award upon the 125th anniversary of the institution in 2018.
She remains passionate about teaching and about rheumatology, a field which she believes is growing. This is due, in part, she notes, to the aging of the population and also to the explosion of interest and knowledge about immunology and the important pathways to disease. "The field is broad; it's challenging and rewarding. You can make an enormous difference in people's lives."