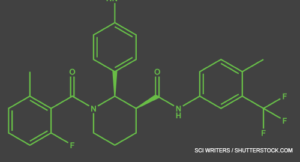 On May 6, the U.S. Food & Drug Administration's (FDA's) Arthritis Advisory Committee narrowly voted in support of avacopan, a C5a receptor inhibitor, for the treatment of adult patients with anti-neutrophil cytoplasmic antibody (ANCA) associated vasculitis. Although the panelists were excited about the possibility of a steroid-sparing therapy, some raised questions about whether results from the single phase 3 trial could adequately inform the risk/benefit assessment.1 The FDA will weigh the panel's recommendation as it considers possible approval.
You Might Also Like
Explore This Issue
August 2021
Also By This Author
Treatment Needs for ANCA-Associated Vasculitis
ANCA-associated vasculitis is a rare, severe and sometimes fatal form of vasculitis characterized by inflammation of small vessels, often including those in the kidney. One factor that distinguishes it from other forms of vasculitis is the dom­inant role of neutrophils in its pathogenesis. From work in both animal and mouse models, we know activation of the alternative complement pathway plays a role in the disease pathogenesis, triggering attraction and activation of neutrophils in a complex feedback loop.1-3
ADVERTISEMENT
SCROLL TO CONTINUE
Morbidity and mortality from ANCA-associated vasculitis has improved in recent decades, partly due to the introduction of new treatment regimens. The FDA approved rituximab for ANCA-associated vasculitis in 2011, and, in 2018, its label was extended to include maintenance therapy. Most patients with newly diagnosed ANCA-associated vasculitis are now started on a tapering dose of glucocorticoids, paired either with cyclo­phosphamide or rituximab, with a later follow-up maintenance dose of rituximab at around six months.
High doses of glucocorticoids are often used for remission induction, and they may also be employed as part of maintenance therapy, flare management and relapsing disease. This is a concern for practitioners, who hope to reduce the toxicity that results from glucocorticoid use, especially when given at high doses for prolonged periods.
ADVERTISEMENT
SCROLL TO CONTINUE
Avacopan is the first drug to be specifically developed for a vasculitis indication. Other vasculitis therapies—such as tocilizumab for giant cell arteritis or rituximab for ANCA-associated vasculitis—were first approved for other diseases. Avacopan is an oral C5a receptor antagonist that selectively blocks the effects of C5a, thus dampening neutrophil attraction and activation. It does not have FDA approval for other indications, but has orphan drug status for ANCA-associated vasculitis (specifically for microscopic polyangiitis and granulomatosis with polyangiitis) and for C3 glomerulopathy, a rare kidney disease.
Arthritis Advisory Panel Meeting
The FDA generally requires evidence from at least two adequate and well-controlled phase 3 trials to establish effectiveness of a drug. However, it exercises regulatory flexibility in certain circumstances, such as for some rare diseases. In this case, it may consider the results of a well-designed single study if the evidence is statistically persuasive and clinically meaningful.4