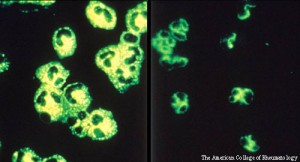 In 2021, the ACR—in concert with the Vasculitis Foundation (VF)—released four new vasculitis guidelines, one each on: 1) anti-neutrophil cytoplasmic antibody (ANCA) associated vasculitis, 2) giant cell arteritis (GCA) and Takayasu arteritis, 3) polyarteritis nodosa and 4) Kawasaki disease.1-3,13 The guideline development process is complex. For the vasculitis guidelines, this process kicked off in June 2017, when the core leadership team formed by the ACR first met in person. The ACR also convened expert and voting panels. Together, the core team and the two panels determined the project's scope. Members of the literature review team assembled evidence using the most recent nomenclature system for vasculitis, the 2012 Chapel Hill Consensus Conference nomenclature.4 A panel of patients contributed as well. In this series, we discuss the updated recommendations with authors who contributed to each guideline. Read other installments in this series.
In part 2 of this series, we talk again with Sharon Chung, MD, MAS, this time about the ANCA-associated vasculitis guideline. Dr. Chung is director of the Vasculitis Clinic at the University of California, San Francisco, and served as the principal investigator of the overall vasculitis guideline effort. She also helped formulate the guidelines for ANCA-associated vasculitis.
ADVERTISEMENT
SCROLL TO CONTINUE
The ANCA-associated vasculitides comprise granulomatosis with polyangiitis (GPA), microscopic polyangiitis (MPA) and eosinophilic granulomatosis with polyangiitis (EGPA). These diseases affect small- and medium-sized vessels and are characterized by multisystem organ involvement. They're often associated with an ANCA profile—typically PR3-ANCA positivity for GPA and MPO-ANCA positivity for MPA. Classically, they present with constitutional symptoms (e.g., rash, arthralgias) and some of the things I call the "scary vasculitic manifestations." These include, but are certainly not limited to, diffuse alveolar hemorrhage (DAH), pauci-immune glomerulonephritis and mononeuritis multiplex. Patients who present with granulomatosis with polyangiitis can develop aggressive, destructive upper airway disease.
A few recommendations in the guideline will likely come as no surprise to people who have treated ANCA-associated vasculitis, such as a conditional recommendation for methotrexate in non-severe disease. The guidelines also conditionally recommend Bactrim (sulfamethoxazole and trimethoprim) for Pneumocystis pneumonia prophylaxis, but not as an explicit treatment for disease; immunosuppressive therapies are favored instead. There are also several otolaryngology recommendations.
ADVERTISEMENT
SCROLL TO CONTINUE
From the guideline—Recommendations: For patients with active, severe GPA/MPA, we conditionally recommend treatment with rituximab over cyclophosphamide for remission induction. For patients with GPA/MPA who have experienced relapse with severe disease manifestations and are not receiving rituximab for remission maintenance, we conditionally recommend treatment with rituximab over cyclophosphamide for remission re-induction.