In a study using ASL, 16 patients with chronic, low back pain (cLBP) and 16 control subjects each performed identical passive, straight-leg maneuvers. The maneuvers increased the patients' own clinical pain, but were completely painless for the controls. Increases in pain ratings by the cLBP patients were "accompanied by statistically significant increases in regional cerebral blood flow (rCBF)" in cortical areas, including the bilateral medial and dorsolateral prefrontal cortices, superior parietal lobules, S1 and S2, and the right insula; previous studies have identified these areas as being involved in processing the sensory-discriminative and affective aspects of pain.
You Might Also Like
Explore This Issue
January 2015
Also By This Author
The changes in rCBF seem to be specific with the pain maneuvers, because the pain matrix areas of the brain were activated only during the cLBP patients' maneuvers session and not at all in the control group.
ADVERTISEMENT
SCROLL TO CONTINUE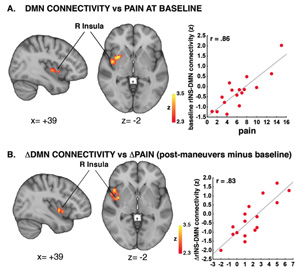 DMN-insula connectivity correlates with clinical pain. A) The more spontaneous the pain, the more the insula (colored blob) becomes connected to the DMN. B) The more the pain is experimentally exacerbated (e.g., using straight leg raises), the more the insula-DMN connectivity increases.3
DMN
Another study looked at the connectivity of the default mode network (DMN) to build on growing evidence that chronic pain alters brain processing.3 The DMN is part of the brain that is typically more active at rest and becomes deactivated while engaging external stimuli.
ADVERTISEMENT
SCROLL TO CONTINUE
The hypothesis was that changes in the connectivity between DMN and the insula (i.e., a region of the brain associated with pain processes) would occur in proportion to changes in clinical pain created by maneuvers performed on patients with cLBP. The clinical maneuvers were straight leg lifts or pelvic tilts (depending on the ability of the patient). ASL fMRI images were made before and after the maneuvers. Premaneuver values were subtracted from the postmaneuver values to determine a value for clinical pain.
Indeed, the clinical pain cLBP patients experienced did correlate to DMN-insula connectivity. "The more clinical maneuvers induced an increase in pain, the more they induced an increase in DMN-insula connectivity," says Dr. Loggia. "And the more the insula 'talked' to the DMN, the more the patients reported back pain."
After regression analysis, the researchers concluded that changes in pain were significantly associated with changes in DMN-insula connectivity. Dr. Loggia says, "The more we increased the pain, the more connectivity there was between the DMN and the insula."
ADVERTISEMENT
SCROLL TO CONTINUE
The clinical pain correlation to DMN-insula connectivity supports results that Vitaly Napadow, PhD, found in another study on fibromyalgia patients.4