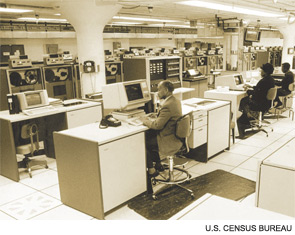 Dr. Fries envisioned computers as a tool to collect and analyze patient data from medical records in the era of UNIVAC, when computers used punch cards and took up entire rooms.
As a fellow in rheumatology at Johns Hopkins Hospital in the 1960s, James F. Fries, MD, recognized that patients' medical records were a rich source of information. While conducting a landmark study of the natural history of scleroderma, he recalls, "I became very aware of the profound truths that were hidden in the medical record room."1 In that decade, extracting those truths was a laborious and often frustrating proposition. "I was unhappy with the effort required—about a year and a half for a single study—to go over the records of these 116 people and to abstract them in an imperfect way," he says. Dr. Fries' frustration with this process provided, in part, the impetus for his future work.
Explore This Issue
June 2007
Also By This Author
A professor of medicine at Stanford University School of Medicine for the past 35 years, Dr. Fries now enjoys international stature as a champion of patient-reported outcomes and time-oriented, multidimensional tracking of patients with chronic disease. His prodigious output of scientific and patient-directed articles and books includes two of the most cited articles in medical literature, one of which outlines his renowned Compression of Morbidity hypothesis and the other details the measurement of patient outcome in arthritis (via the Health Assessment Questionnaire or HAQ).2,3
ADVERTISEMENT
SCROLL TO CONTINUE
As the initiator and principal investigator of the Arthritis, Rheumatism, and Aging Medical Information System (ARAMIS), Dr. Fries pioneered the concept of the chronic disease databank. In the late 1960s, he was one of the first medical researchers to envision the possibilities of harnessing computer technology to track patient outcomes longitudinally. Through those efforts, he and his colleagues have made formative contributions to the modern health outcomes movement, giving credence to the importance of including patients' values in healthcare decision-making.
On a recent afternoon, Dr. Fries took some time to trace the beginnings of his interest in applying information technology to the development of a three-dimensional framework for measuring and tracking the complex course of rheumatic diseases.
ADVERTISEMENT
SCROLL TO CONTINUE
Roots of ARAMIS
The rheumatic diseases involve more than one organ system affected by multiple flares and remissions and much potential toxicity from available treatments. Dr. Fries was drawn to the clinical complexities of the specialty, including long-term care, challenging diagnostics, and the necessity to make multiple difficult decisions under uncertain prognoses. While at Hopkins, Dr. Fries had become interested in computers because he saw them as a "way to move into a different world." This was the era of UNIVAC, when large mainframe computers were programmed using punch cards. From his experience with the scleroderma study, Dr. Fries realized that the medical record held answers to many of his questions about the course of chronic disease. He began work on "the time-oriented medical record," with the goal of obtaining information from patients during clinic visits in a prospective, structured way. Dr. Fries formulated the concept of collecting chronic disease information in three dimensions to more completely describe an individual patient's life over time. This idea evolved into the "computerization of a rheumatic disease unit," which he and his colleagues envisioned as a route to more reliable and standardized data.