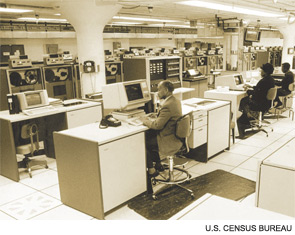 Dr. Fries envisioned computers as a tool to collect and analyze patient data from medical records in the era of UNIVAC, when computers used punch cards and took up entire rooms.
As a fellow in rheumatology at Johns Hopkins Hospital in the 1960s, James F. Fries, MD, recognized that patients' medical records were a rich source of information. While conducting a landmark study of the natural history of scleroderma, he recalls, "I became very aware of the profound truths that were hidden in the medical record room."1 In that decade, extracting those truths was a laborious and often frustrating proposition. "I was unhappy with the effort required—about a year and a half for a single study—to go over the records of these 116 people and to abstract them in an imperfect way," he says. Dr. Fries' frustration with this process provided, in part, the impetus for his future work.
Explore This Issue
June 2007
Also By This Author
A professor of medicine at Stanford University School of Medicine for the past 35 years, Dr. Fries now enjoys international stature as a champion of patient-reported outcomes and time-oriented, multidimensional tracking of patients with chronic disease. His prodigious output of scientific and patient-directed articles and books includes two of the most cited articles in medical literature, one of which outlines his renowned Compression of Morbidity hypothesis and the other details the measurement of patient outcome in arthritis (via the Health Assessment Questionnaire or HAQ).2,3
ADVERTISEMENT
SCROLL TO CONTINUE
As the initiator and principal investigator of the Arthritis, Rheumatism, and Aging Medical Information System (ARAMIS), Dr. Fries pioneered the concept of the chronic disease databank. In the late 1960s, he was one of the first medical researchers to envision the possibilities of harnessing computer technology to track patient outcomes longitudinally. Through those efforts, he and his colleagues have made formative contributions to the modern health outcomes movement, giving credence to the importance of including patients' values in healthcare decision-making.
On a recent afternoon, Dr. Fries took some time to trace the beginnings of his interest in applying information technology to the development of a three-dimensional framework for measuring and tracking the complex course of rheumatic diseases.
ADVERTISEMENT
SCROLL TO CONTINUE
Roots of ARAMIS
The rheumatic diseases involve more than one organ system affected by multiple flares and remissions and much potential toxicity from available treatments. Dr. Fries was drawn to the clinical complexities of the specialty, including long-term care, challenging diagnostics, and the necessity to make multiple difficult decisions under uncertain prognoses. While at Hopkins, Dr. Fries had become interested in computers because he saw them as a "way to move into a different world." This was the era of UNIVAC, when large mainframe computers were programmed using punch cards. From his experience with the scleroderma study, Dr. Fries realized that the medical record held answers to many of his questions about the course of chronic disease. He began work on "the time-oriented medical record," with the goal of obtaining information from patients during clinic visits in a prospective, structured way. Dr. Fries formulated the concept of collecting chronic disease information in three dimensions to more completely describe an individual patient's life over time. This idea evolved into the "computerization of a rheumatic disease unit," which he and his colleagues envisioned as a route to more reliable and standardized data.
"That was the infrastructure for what became ARAMIS," he explains. "And it was the concept with which I was recruited back to Stanford by Hal Holman. [He had originally graduated with a B.A. from Stanford in 1960.] At that time, I think you could say I was the only IT expert in rheumatology."
In the late 1960s, Halsted R. Holman, MD, was chair of the department of medicine at Stanford University's School of Medicine. Now the Guggenhime professor of medicine, emeritus, Dr. Holman recalls that "the striking thing that [Dr. Fries] wanted to do—and that I thoroughly agreed with—was to begin to do good measurements of healthcare outcomes. Now, that was not just setting up an instrument of some form to which you could assign numbers and do number crunching. It was much more substantive, in that he wanted to put together whatever data there were about patients' experiences from illness and from our efforts at treatment.
ADVERTISEMENT
SCROLL TO CONTINUE
"Our treatments for rheumatic diseases were rather meager at that time," continues Dr. Holman. "What he tried to do was break down the relationship between different physiological abnormalities, what we could measure in the laboratory, and clinical states that the patient had. Jim wanted to put together this information in a composite of what—on average—happened to patients, and to watch this evolve out over time in both treated and untreated patients.
"So, that was the beginning and it was something that wasn't being done widely at all," says Dr. Holman. "We thought it was important to do, and encouraged him to do it—and you know the results."
Following his fellowship at Stanford, Dr. Fries became a junior faculty member in Dr. Holman's department. Work on the concept of the computerized rheumatic disease unit began slowly. Dr. Fries had the "usual junior faculty problems" of raising money to build the unit. However, he enjoyed fruitful collaborations with Stanford's programming community. At that point, the computer was mainly seen as a computational tool, and storage of data slow and prohibitively expensive.
"In retrospect," he says, "it was awfully primitive. The computer was essentially a big hand calculator, with a minimum of data storage possibility. We had to develop what's been termed the first relational database because there weren't any anywhere at that time."
These efforts yielded a number of papers describing the IT aspects of the team's work, including the chronic disease databank model, whose cornerstone was establishing a rolling cohort of patients, with continuous open entry.4,5
ARAMIS Launched
The Arthritis Act of 1974 facilitated the formal launch of ARAMIS. Dr. Fries credits Evelyn Hess, MD, an adult rheumatologist at the University of Cincinnati, for her efforts to include in the act provisions and funding to establish a nationalized patient database. Dr. Fries' Stanford group applied to the National Institutes of Health (NIH) to become the national arthritis data resource. Larry Shulman, MD, PhD, director of the National Institute of Arthritis and Musculoskeletal and Skin Diseases (NIAMS), also helped lead that effort. "You could say that the program actually formally began with an act of Congress," says Dr. Fries.
By the mid-1970s, several researchers in the United States and Canada had already been collecting longitudinal data on their rheumatology patients. An initial group of six institutions (including Joseph Levinson, MD, and Dr. Hess at the University of Cincinnati; Donald Mitchell, MD, at the University of Saskatchewan, Saskatoon; Thomas Medsger, MD, at the University of Pittsburgh, and others) agreed to pool data, with Dr. Fries' Stanford group serving as coordinators of the entire project. NIH-sponsored conferences quickly followed, to agree upon terminology and uniform data storage units.

In addition to being a pioneer in patient-reported outcomes, Dr. Fries is a world traveler and mountain climber. Here he is 18,000 feet high at a Mount Everest base camp.
A Rich Vein of Information
First funded in 1976, ARAMIS was intended to be a framework for enrolling patients with rheumatic diseases and following them for life. Five years into the project, however, investigators discovered that there was an 80% dropout rate. The unit of collection was through the investigator, so patients were being lost as they changed physicians or investigators came and went. In addition, tests were not being performed uniformly on all patients at standard intervals.
To improve follow-up and correct the biased data collection, the ARAMIS team changed from the doctor to the patient as their unit of follow-up, and imposed a protocol on the observational study. Thus, the team developed the Health Assessment Questionnaire and instituted intense follow-up to ensure patient compliance.3 As Dr. Fries puts it, "We had been accidentally compelled to invent patient-reported outcomes."
Other historical phases followed, such as the creation of infrastructure methodology when investigators developed the complete rheumatic disease criteria sets. In addition, the wealth of data in ARAMIS allowed the investigators to make a series of other breakthroughs, such as identifying a successful treatment for scleroderma renal crisis, discovering NSAID gastropathy, and reversing the standard disease treatment pyramid. Looking at the results from a variety of treatment strategies and patterns over time it became clear, says Dr. Fries, that physicians were missing therapeutic opportunities. NSAIDs, regarded as more benign than disease-modifying antirheumatic drugs (DMARDs), were in fact more toxic. And the latter, if prescribed earlier in the disease continuum, improved health outcomes.
These revelations had direct effects on improving treatments for arthritis patients. Pharmaceutical companies were spurred to develop NSAIDs using selective COX-1 sparing mechanisms as a way of protecting the stomach and physicians began to view these drugs in a more realistic light. The ARAMIS bibliography is now at 931 articles. (The bibliography is classified by author and year and available on the ARAMIS Web site.)
Current Projects
Dr. Fries and his colleagues presented several studies at last year's ACR meeting in Washington, D.C.: two longitudinal studies of aging and musculoskeletal disability showing that health habits can delay onset of disability; a study demonstrating that hydroxychloroquine (Plaquenil), a DMARD used to treat RA and lupus, prevents the development of diabetes mellitus 2; and a paper on item improvement. The last paper, presented by Dr. Fries, addresses one aspect of a newly mounted NIH initiative to develop improved outcome assessment instruments. Dr. Fries is also a lead investigator in this new initiative, called PROMIS (Patient Reported Outcomes Medical Information System). Drawing on educational testing theory, this effort uses computerized adaptive testing to refine questions to elicit increasingly precise measures on individuals. The hoped-for result will be to reduce the standard error of measurement, and thus reduce required sample sizes for clinical trials by 25% to 40%. The savings for clinical trials sponsors, such as the NIH, would be considerable.
Clearly, Dr. Fries keeps a full calendar. "I have never worked full time," he responds, when queried about his schedule. "I have always worked more than full time. I figure if anything is worth doing, it's worth overdoing."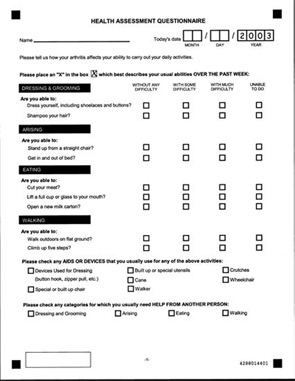 click for large version
Pioneering Work
Dr. Fries is highly respected for his efforts in the field. Outcomes researcher Michael Ward, MD, MPH, an investigator at the National Institute of Arthritis and Musculoskeletal and Skin Diseases and The Rheumatologist board member, attests to Dr. Fries' broad range of research interests. "If we talk about Jim Fries, the first thing that would come to [most] people's minds is the HAQ," says Dr. Ward, "But that, in fact, is just one segment of a whole notion of outcome assessment that includes measurement of a range of components." (These are Disability, Discomfort or pain, Drug side effects, Dollars, and Death—the so-called Five Ds.) "His view is that if we are not measuring all of those components, then we have an incomplete picture of what is going on with a particular group of patients or a particular disease," he says.
Dr. Fries praises the mentoring he received from older colleagues such as Drs. Holman and Shulman. "It was a form of mentoring where you had support provided, but it was really [provision of] some elbow room," he says. Dr. Ward, currently a researcher at NIAMS, spent 12 years at Stanford, first as a fellow and trainee with Dr. Fries' research group, and then as a faculty member. As a mentor, Dr. Fries is "more of a shaper than a director," he says. "He is very good at recognizing people's level of experience, letting them explore ideas, and giving them direction when they need it. That's what I experienced and what I saw him doing with other trainees as well."
Broad Range of Interests
In addition to his scientific achievements, which have yielded countless accolades (such as the ACR Lifetime Clinical Research Award and the first C. Everett Koop National Health Award), Dr. Fries is also a mountain climber, world traveler, and horseman. He and his wife Sarah have continued their trips despite her ongoing battle with metastatic melanoma.
"We declared ourselves on an extended honeymoon for the rest of our lives without concession to illness and have had wonderfully good times these last 500 days, punctuated only by periodic medical procedures," he wrote in October for a Dorsey [Los Angeles] High School Class of 1956 Reunion profile. In the past year, his wife presented the Elizabeth A. Fries Health Education Award in Philadelphia, in honor of their daughter who tragically succumbed in 2005 to complications of chemotherapy for breast cancer. The couple has also endowed the James F. Fries Chair in Medicine at Johns Hopkins.
Of his past and current work, Dr. Fries reflects, "I believe we're really doing good things, and that we have done really good things." He believes that his penchant for asking the larger questions emanates from his humanities background: Prior to medical school, he degreed in and taught philosophy at Stanford University. "I liked to address big questions, liked to think outside of the box and test several different theories of truth." His work in patient-reported outcomes, he says, has contributed to "an increasingly broad recognition that the 'doctor orders/patient obeys' way of thinking about medicine is lacking," he says. "Patients get to weigh in their values also. It's ultimately the patient's value system that you're trying to mimic."
Gretchen Henkel is a medical journalist based in Los Osos, Calif.
References
Fries JF. Physiologic studies in systemic sclerosis (scleroderma). Arch Intern Med. 1969; 123:22-25.
Fries JF, Spitz P, Kraines RG, Holman HR. Measurement of patient outcome in arthritis. Arthritis Rheum. 1980;23:137-145.
Fries JF, Hess EV, Klinenberg J. A standard database for rheumatic diseases. Arthritis Rheum. 1974;17:327-336.
Weyl S, Fries JF, Wiederhold G, Germano F. A modular self-describing clinical databank system. Comput Biomed Res. 1975;8:279-293.
Career
1964 – Graduates from the Johns Hopkins University School of Medicine in Baltimore.
1966 – Completes a two-year residency at Johns Hopkins Hospital.
1968 – Completes a two-year fellowship in the connective tissue disease division of Johns Hopkins Hospital.
1969 – Completes a one-year residency at Stanford University School of Medicine and accepts a position as instructor of medicine there.
1971 – Becomes assistant professor of medicine at Stanford.
1976 – ARAMIS receives initial NIH funding.
1977 – Becomes associate professor of medicine at Stanford.
1977 – Becomes associate professor of medicine at Stanford.
1977 – Becomes associate professor of medicine at Stanford.