Since 2005, I have been directing a center for Behçet's syndrome (BS) at New York University's (NYU) Hospital for Joint Diseases. One question I am frequently asked is how I got interested in such a rare disease, or at least one that is rare in the U.S. I answer that family history and the Internet played big roles. My father, Hasan Yazici, MD, is also a rheumatologist. He has done a good deal of work on BS and leads one of the largest centers in the world for this disease located in Istanbul, Turkey. When I started practicing, I would get phone calls from patients, mostly from the New York/New Jersey/Connecticut area, who had been diagnosed with BS. Some—but not all—were Turkish. They would say that, while researching BS online, they had found a Dr. Yazici who had done a lot of work with BS, and they would ask if I was that same Dr. Yazici. When I told them I was his son, they would invariably say, "That's close enough," and make an appointment to see me.
The Internet and family connection led the first 30 or 40 patients I saw to me. By then, I was working at NYU and thought it would be a good idea to start a center to see if we could better characterize Behçet's patients in the U.S. To date, we have seen more than 500 patients with Behçet's, started randomized clinical trials, and worked with the National Institutes of Health to develop further studies. The center has collaborated with neurology, dermatology, and other subspecialties at NYU, and we have worked with our fellows to write abstracts and manuscripts, among other ongoing projects. It has been, and continues to be, a fulfilling experience.
Along the way, we have discovered possible differences between patients with Behçet's in the U.S. and patients from areas where BS is more endemic. We also have found that this syndrome may not be as rare in the U.S. as was once assumed, especially in the New York area, where the ethnic and racial mix may contribute to the increased incidence of BS.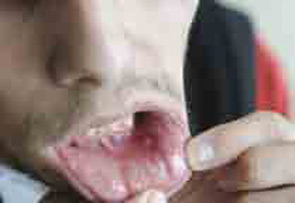 Figure 1: Virtually all patients with BS have recurrent oral ulcers, such as this one.
Clinical Features
Behçet's syndrome is a systemic vasculitis affecting the small and large vessels of both the venous and arterial systems and has an unknown etiology. It was first described by Hulusi Behçet in 1937 on the basis of three patients with a triple-symptom complex of oral aphthae, genital ulcers, and hypopyon uveitis.1 Subsequent studies showed that this entity was a multisystem disease characterized by variable clinical manifestations. Virtually all patients have recurrent oral aphthae (see Figure 1, below), with successively fewer having genital ulcers, skin lesions, arthritis, uveitis, thrombophlebitis, and gastrointestinal (GI) and central nervous system (CNS) involvement.