It started with an inhaler.
You Might Also Like
Explore This Issue
May 2018
Also By This Author
Like many of you, I am a rheuma­tologist. And like you, I see some patients more often their own primary care provider. This is so often the case that I have gradually devolved into their backup, all-purpose doctor. I am the doc they notify when they get hospitalized for pneumonia or if they're trying to decide whether to go ahead with the hip replacement they were told they need.
ADVERTISEMENT
SCROLL TO CONTINUE
From the patient's perspective, I can understand the confusion. It must be difficult for them to understand why I seem keenly interested in some problems, but not others. After all, because I am the physician ordering the urinalysis, I must be the right doctor to approach about their urinary tract infection or their kidney stones.
Thus, I found myself trying to figure out why my patient was short of breath. In retrospect, the complaint was not new. In my defense, when a patient meets you because of digital ischemia caused by a medium-vessel vasculitis, his ability to run up a flight of stairs seems a little less interesting. Over the years, however, as his rheumatic disease improved, dyspnea gradually worked its way up his problem list until it was the only issue left.
ADVERTISEMENT
SCROLL TO CONTINUE
He knew what the problem was—for years, he was under the care of a pulmonologist for his chronic obstructive pulmonary disease. The diagnosis was well earned, after many years of smoking in a previous era, when smoking was encouraged. Honestly, his condition had not changed much: diminished air exchange, a faint wheeze at the end. I had just never thought of it as my problem to fix.
When he started telling me about scouring the shelves of his local pharmacy for Primatene Mist, an inhaled form of epinephrine that was taken off the market in 2011, I knew I had to step in, at least temporarily. I gave him a prescription for a few inhalers, extracted from him a promise to find a new lung doctor and sent him off. My good deed for the day.
I am not a conspiracist. I don't believe a dark state is controlling the government. … I'm pretty sure that wasn't Elvis who was spotted in the Nashville Publix parking lot. That said, I find it difficult to look at the price of generic drugs & not wonder whether the conspiracists may be onto something.
Or so I thought. When he returned for his routine follow-up appointment, I was not surprised to learn that he had not yet seen a pulmonologist—I knew it might take a few tries to make that happen. I was surprised, however, to learn that he had picked up only one of the two inhalers I had prescribed. Generic albuterol was cheap, and he was pleased to inform me that it seemed to be helping. The other inhaler was not generic and not cheap. He learned the prescription would have cost him $100 out of pocket, so he declined to pick up the drug. Perhaps not being able to breathe was not so bad, after all.
Generic Drugs 101
The U.S. Food and Drug Administration (FDA) defines a generic drug as "a medication created to be the same as an already marketed brand-name drug in dosage form, safety, strength, route of administration, quality, performance, characteristics and intended use."1 The generic drug does not have to be completely identical to the original drug, but it does have to demonstrate bioequivalence, meaning that a patient should be able to take the brand-name drug one day and its generic counterpart the next and not notice a difference in effect.
By and large, that is exactly what generic drugs accomplish. In one study, the bioavailability of generic drugs was found to vary by 3.5% when compared with the bioavailability of the brand-name drug.2 This is approximately the same variability that is found when comparing two batches of the same drug from the same manufacturer. A meta-analysis of studies comparing generic drugs with brand-name drugs demonstrated no evidence that one was better than the other.3
The motivation for creating a generic drug, of course, is profit. When a pharmaceutical company initially brings a drug to market, it tries to recoup all of the costs of research and development that went into making that drug, as well as the anticipated costs of marketing and outreach. When a generic drug manufacturer comes along, it is coasting on the work of others, like a student who has cribbed the answers to a test.
In this particular case, theft is good. Patent protection exists to encourage innovation, but patents expire for a reason. The introduction of generic drugs into the marketplace moderates the overall costs of pharmaceuticals and ensures a drug that is initially prohibitively expensive will eventually be available to all.4
The Economics of Generics
The impact of generic drugs on healthcare economics cannot be overstated. Generic drugs now represent 89% of all prescriptions written in the U.S.; however, they account for only 27% of all spending on drugs.5 In the past decade, generic drugs have resulted in $1.67 trillion in savings.5 So why are generic drugs not more widely available?
Part of the problem may be the lack of raw materials. Creating a generic drug generally requires 1,500 to 3,000 doses of the branded drug. Some companies engage in what Scott Gottlieb, the FDA commissioner, recently labeled "shenanigans" to avoid releasing this quantity of drug to a competitor.6 This has gained the attention of the Federal Trade Commission (FTC), which seems odd until you realize the FTC is in charge of policing anticompetitive business practices.
Part of the problem may be the lack of raw interest. For some generic drugs, the profit margin is razor thin, and only a few com­panies may be interested in making the commitment. Problems in a single manufacturing plant can result in nationwide shortages.
Many of us first noticed how fragile our drug ecosystem is in the wake of Hurricane Maria in 2017. In the 1970s, the U.S. Congress made a change to the tax code, called Section 936, which made it advantageous for pharmaceutical companies to manufacture drugs in Puerto Rico. Although the incentive has since expired, Puerto Rico continues to be responsible for the production of 10% of all drugs prescribed in the U.S.7 The supply chains for intravenous saline and levothyroxine were both affected, which reminded all of us how important Puerto Rico is to the health of our nation.
The FDA is now actively exploring all of these issues. Mr. Gottlieb has announced his intention to hold a public meeting in July 2018 to solicit suggestions on how to decrease the barriers to creating new generic medications.8
One novel solution is coming from hospitals. A coalition of approximately 300 hospitals, led by Intermountain Healthcare in Salt Lake City, is now getting into the business of manufacturing generic drugs.9 Publicly, the coalition will not say which drugs it is targeting, although it has implied that it plans to focus on the drugs with tenuous supply chains.
These hospitals are now in the process of forming a nonprofit company; this solution is intriguing enough that the Department of Veterans Affairs has expressed an interest in participating. As A. Marc Harrison, MD, president and chief executive officer (CEO) of Intermountain Healthcare, said, "This is a shot across the bow of the bad guys." He may be onto something: Following this announcement, more than 100 hospitals contacted Intermountain to find out where they could sign up.10
Ultimately, the coalition hopes to serve as a moderating force on the market by increasing supply to keep up with demand, so the prices of medications don't follow the same market forces that dictate the cost of an Uber at the end of the night. The Intermountain CEO describes his vision as creating a nonprofit public utility that will earn just enough money to sustain its operation, but not enough to turn a profit.
Even if a cheaper alternative exists, your patient may never find out about it. By now, we are all well aware of the role that pharmacy benefit managers (PBMs) play in the cost of prescription drugs. In brief, a PBM serves as the middle man between a drug manufacturer and an insurance company. This seems like a perfectly benign function until you realize the PBM has no motivation to pass along any savings to the patient. It gets worse: In most states, pharmacists are prohibited from telling patients when it would be cheaper to pay cash instead of purchasing a drug through their insurance plan.11
The ACR's Government Affairs Committee has taken on this issue, and its efforts are already bearing fruit.12 Pharmacist gag laws are now illegal in several states, with more to follow. Moreover, 30 states have passed laws governing drug pricing. Maryland has focused on generic drugs in particular; the Maryland attorney general can take action against any generic manufacturer that increases the cost of its drug by greater than 50% over one year, raising the possibility of clawing back some of the profits to return to the consumer.13
Supply, Demand & Conspiracy
I am not a conspiracist. I don't believe a dark state is controlling the government. I don't think a second shot came from the grassy knoll, and I'm pretty sure that wasn't Elvis who was spotted in the Nashville Publix parking lot. That said, I find it difficult to look at the price of generic drugs and not wonder whether the conspiracists may be onto something.
As the supply drops, the demand increases—and with that demand, the amount that a company may be willing to charge. The benefits of competition are realized only when multiple companies are competing. When only two or three companies manufacture a given drug, substantially less pressure exists to drive down the cost of that drug.
That much seems logical. When you look at individual examples, however, some increases defy logic. In 2013, for example, the price of 500 tablets of doxycycline went from $20 to $1,849. The Government Accountability Office noted that more than 3,000 generic drugs had at least one price increase of over 100% between 2010 and 2015.14 In some cases, a price increased more than 1,000% in a single year.
This piqued the interest of federal prosecutors, who have been examining the generic drug industry for evidence of collusion. Forty-five state attorneys general, led by Connecticut's attorney general, have filed suit in federal court against multiple drug manufacturing companies alleging price fixing. Michael Cole, head of antitrust litigation in the office of the Connecticut Attorney General, says, "The companies would work out in advance who would get the lowest price and then the other competitors would put in what we would call a cover bid."15 This preserved the appearance of a competitive marketplace, without any of the financial risk. The suit alleges that records subpoenaed from 2012 to 2015 show that the price of generics had been set by consensus among competitors in many cases, which is an obvious violation of the public trust and, of course, the law.
The fallout is just starting. Past executives at Heritage Pharmaceuticals, former CEO Jeffrey A. Glazer and former Senior Vice President Jason T. Malek, have admitted to antitrust violations, which led to—among other consequences—the surge in the price of doxycycline I mentioned earlier. They are now shining a light on other industry practices that will likely result in additional indictments.16
Class action lawyers are already lining up clients, including retail pharmacies and insurance companies, that may have been harmed as a consequence of price fixing. Makan Delrahim, the head of the U.S. Department of Justice's antitrust division, has also made it clear the government is wondering how many of your tax dollars may have been lost as a result of collusion. He notes, "To the extent that taxpayers have had to pay that bill, I think that the taxpayers should recover. And we will get involved on the civil side and recover damages for the U.S. government."14 Those damages, collectively, are now estimated to be somewhere between $1 billion and $5 billion.
I hope that some of those damages may be redirected toward such efforts as the Intermountain Healthcare initiative to bring at least some part of the generic drug industry into the nonprofit arena. Profit surely drives innovation, and I would not begrudge anyone the opportunity to make a buck off their hard work. For drugs that have been around for a generation, however, I think we have earned the right to expect they will remain both available and affordable—and the right to breathe.
---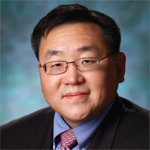 Philip Seo, MD, MHS, is an associate professor of medicine at the Johns Hopkins University School of Medicine, Baltimore. He is director of both the Johns Hopkins Vasculitis Center and the Johns Hopkins Rheumatology Fellowship Program.
References