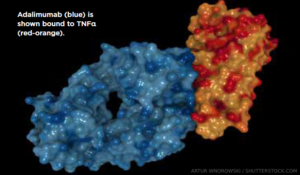 Biosimilars have become a therapeutic turning point for many patients who are living with rheumatic illnesses. Psoriatic arthritis (PsA) is a complex, multi-faceted chronic inflammatory musculoskeletal and skin disease where the treatment has changed considerably over the past few years. Psoriatic arthritis has an impact on about 30% of people with psoriasis.1
In 2019, the ACR and the National Psoriasis Foundation (NPF) published their first joint guideline for treating psoriatic arthritis. It can be reviewed here.2
Although the impact of PsA on quality of life is comparable to rheumatoid arthritis (RA), there are fewer resources for patients living with PsA than there are for patients with RA.3 The treatment of PsA includes traditional or conventional disease-modifying anti-rheumatic drugs (DMARDs); biologic therapies, such as tumor necrosis factor inhibitors (TNFi's), interleukin (IL) 17 receptor antagonists, IL-12/23 inhibitors (IL-12/23i); and targeted oral agents, including a phosphodiesterase-4 inhibitor (PDE4) and Janus kinase (JAK) inhibitors.
The U.S. Food & Drug Administration (FDA) has approved eight drugs that are biosimilar to adalimumab. Adalimumab-adbm (Cyltezo) is the first biosimilar for a rheumatic disease with an interchangeable designation. It is interchangeable for adalimumab (Humira), meaning it can be substituted for its reference product at the pharmacy without additional approvals from the prescribing physician, state law permitting.4
SUMMARY BY DRUG CLASS
Drug class: PDE4 inhibitor
Drug: apremilast (Otezla)
Adverse reactions: The most common adverse reactions (≥5%) are diarrhea, nausea and headache.
Drug class: TNFi's
Drugs: etanercept (Enbrel), infliximab (Remicade), adalimumab (Humira), certolizumab (Cimzia), golimumab injection for subcutaneous use (Simponi), golimumab injection for intravenous use (Simponi Aria)
Biosimilars: etanercept-szzs (Erelzi), etanercept-ykro (Eticovo), infliximab-dyyb (Inflectra), infliximab-abda (Renflexis), infliximab-qbtx (Ixifi), adalimumab-atto (Amjevita), adalimumab-adbm (Cyltezo)*, adalimumab-adaz (Hyrimoz), adalimumab-fkjp (Hulio), adalimumabaqvh (Yusimry), adalimumab-afzb (Abrilada), adalimumab-aacf (Idacio), adalimumab-bwwd (Hadlima)
Boxed Warning: Serious Infections & Malignancies
There is an increased risk of serious infections leading to hospitalization or death, including tuberculosis (TB), bacterial sepsis, invasive fungal infections (e.g., histoplasmosis) and infections due to other opportunistic pathogens. If these develop, discontinue the drug.
Before starting treatment, perform a test for latent tuberculosis (TB); if positive, start treatment for TB prior to starting the drug. Monitor all patients for development of active TB during treatment, even if the initial latent TB test was negative.
Lymphoma and other malignancies, some fatal, have been reported in children and adolescents treated with TNFi's.
Post-marketing cases of hepatosplenic T-cell lymphoma (HSTCL), a rare type of T-cell lymphoma, have occurred in adolescent and young adults with inflammatory bowel disease treated with TNFi's.
Adverse reactions: The most common adverse reactions (≥5%) are infections, injection-site reactions, headache, abdominal pain and rash.