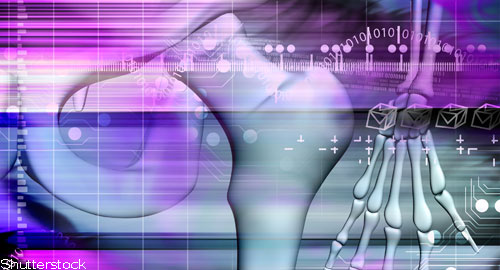 Previous research has shown that the GDF5 gene, which codes for growth differentiation factor 5 (GDF5), is an established risk factor for osteoarthritis (OA). Results from a new study suggest that selection pressures in northern environments have repeatedly selected for an ancient regulatory variant in a novel growth enhancer (GROW1) located in a region downstream of GDF5. Terence D. Capellini, PhD, assistant professor in the Department of Human Evolutionary Biology at Harvard University in Boston, and colleagues suggest that this past selection of growth phenotypes may explain the high frequency of a GDF5 haplotype in the same population. Their results, published online July 3 in Nature Genetics, point to a cause of increased arthritis susceptibility in certain human populations.1
You Might Also Like
Also By This Author
The investigators began their research by using the bacterial artificial chromosome (BAC) scanning approach to identify regulatory sequences surrounding the mouse GDF5 locus. After the researchers identified target regulatory sequences, they then further characterized the downstream effect of the regulatory sequences by placing them in transgenic mice.
ADVERTISEMENT
SCROLL TO CONTINUE
"Our mouse knockout studies showed that GROW1 has a significant effect on the length of the femoral neck in addition to overall bone length," write the authors in their discussion. "Femoral neck length is a key component of hip axis length, and longer hip axis lengths are associated with increased hip fracture rates in humans. The derived allele at the GROW1 enhancer may explain the decreased femoral neck length and decreased fracture risk previously seen in human GDF5 association studies, and it provides another possible selective advantage in humans migrating to particular environments."
The team then queried the 1,000 Genomes Project data in search of common human single nucleotide polymorphisms (SNPs) in the 400 kilobases (kb) region surrounding GDF5. In humans, they found that this GROW1 sequence contains an SNP (rs4911178) at an otherwise highly conserved position. When they examined the functional consequences of this substitution, they found that the variant significantly decreased the expression of the growth enhancer in long bones. Thus, the base-pair change decreases enhancer activity. The fact that this change is associated with a signature of positive selection suggests that this particular enhancer plays a biological role that is important for selection.
ADVERTISEMENT
SCROLL TO CONTINUE
The investigators then examined the evolutionary history of GDF5 and created a phylogenetic tree that could be described as having two clades. Clade A included haplotypes with the ancestral allele at rs4911748, and clade B included many closely related haplotypes that all possessed the lower-activity growth variant at rs4911178.
The ancestral allele (clade A) dominates in Africa, whereas the same GROW1 mutation (clade B) can be found in Neandertals, Denisovans and modern Eurasians. This distribution raises the possibility of independent selection of ancestral standing variants. In the case of Eurasians, the allele is found near the center of a ~130-kb haplotype that runs from the GDF5 5' untranslated region through the downstream region that controls limb length in mice. The resulting decreased bone growth, although increasing the risk for OA, may provide an associated selective advantage in mating, sexual selection, energetic control, thermoregulation or decreased risk of hip fracture.
---
Lara C. Pullen, PhD, is a medical writer based in the Chicago area.
ADVERTISEMENT
SCROLL TO CONTINUE