The ACR has published the "2010 Recommendations for the Prevention and Treatment of Glucocorticoid-Induced Osteoporosis."1 An update to the 2001 recommendations, these new guidelines take into account new therapies and updated diagnostic approaches that have been developed since the 2001 recommendations were published, as well as new data on the therapies mentioned in the 2001 publication.
You Might Also Like
Explore This Issue
March 2011
Also By This Author
Jennifer M. Grossman, MD, principal investigator and coauthor of the recommendations, tells her patients that a glucocorticoid "is a good drug, but it's also a bad drug at the same time. Most of us had thought that 2.5 mg per day was a pretty safe dose, but there are patients taking that dose who should be getting a prophylactic medication for osteoporosis."
ADVERTISEMENT
SCROLL TO CONTINUE
The 2010 recommendations make it clear that any dose of glucocorticoids for management of inflammatory conditions can be associated with significant morbidity and mortality. Decline in bone mineral density can begin within the first three months of use, will often peak by six months, and then will continue with ongoing use.
"Patients on glucocorticoids fracture at a higher bone mineral density than patients not on glucocorticoids," says Dr. Grossman, associate clinical professor of medicine in the department of rheumatology at the David Geffen School of Medicine at the University of California, Los Angeles. "We should not be relying just on bone mineral density when deciding whether to use pharmacologic therapy with these patients," she notes.
ADVERTISEMENT
SCROLL TO CONTINUE
The need to assess bone health beyond bone mineral density is an important change from the 2001 recommendations. The 2010 recommendations "try to incorporate different aspects that raise a patient's threshold of fracture risk, which is really important in these complicated rheumatology patients," she says.
Assess Risk Beyond FRAX Score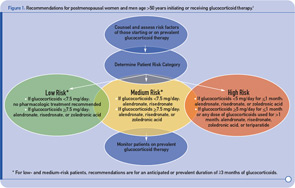 click for large version
Figure 1: Recommendations for postmenopausal women and men age >50 years initiating or receiving glucocorticoid therapy.1
Use of the Fracture Risk Assessment Tool (FRAX) can help determine a patient's fracture risk, but it can give an incomplete assessment. "One of the factors not captured by FRAX is glucocorticoid dose. Instead it is listed as 'ever' or 'never' used. If you have someone on a much higher dose, such as 20 mg daily, you may want to consider osteoporosis prevention therapy in that patient," regardless of their score on FRAX," Dr. Grossman says. (See "Making of the Guidelines" for more on FRAX.)
ADVERTISEMENT
SCROLL TO CONTINUE
Another issue with only using the FRAX score is that the degree of fracture risk calculated by FRAX is based on bone density value for the hip. Because glucocorticoid-treated patients frequently lose bone mass in the spine before the hip, a FRAX score may underestimate their risk of fracture. One new recommendation is that physicians consider ordering a vertebral fracture assessment for patients initiating or receiving 5 mg or more of prednisone daily because patients are often unaware that they have had a vertebral fracture.