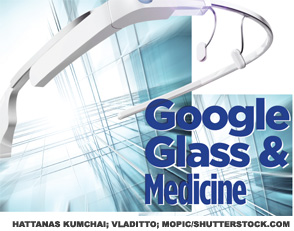 Google Glass (Glass) is a wearable device with a set of features that puts it into a new category of devices known as smart glasses. Glass features include:
A hands-free communicator that can communicate via Bluetooth (e.g., with a smartphone or directly with the Internet when Wi-Fi is available);
A 5 megapixel video camera and voice recorder/transmitter;
A display for viewing text and images from a Web page or message;
A voice input interface (that requires Internet connectivity) for steering applications from local storage or the Internet; and
A touchpad located on the side of the frame for controlling the device.
Like tablets and smartphones, Glass is a platform for various applications.1 It was intended for the consumer market and is not specifically targeted at healthcare, but numerous pilots are already supporting various medical applications. We describe some of these and present our views on the potential uses of smart glasses for rheumatology and orthopedic surgery.
ADVERTISEMENT
SCROLL TO CONTINUE
Early Experiences
The Google Glass Explorer Edition became available in February 2013 to individuals in the U.S. in a limited beta test, with chosen individuals dubbed by Google as Glass Explorers. In April 2013, Google released the first iteration of the development platform, Mirror API, followed by release of the Glass Development Kit in November 2013, which allowed for the development of native Glass applications. Since May 15, 2014, Glass has been publicly available for purchase ($1,500 U.S.) online in the U.S. and U.K.2 Although Glass may perhaps be the most publicized, a number of start-ups and larger companies have also developed different types of smart glasses.3
Since its release, Glass has been tested in healthcare as a platform for telehealth, medical education, accessing the electronic health record (EHR), surgical checklists, display of medical monitor data and augmented reality. Due to the increasing role of technology in facilitating communication of medical information, it seems inevitable that smart glasses will have a role to play in healthcare delivery at some point in the future.
ADVERTISEMENT
SCROLL TO CONTINUE
The unique form factor of Glass has led to considerable excitement among medical professionals, with several forums and conferences held over the past year to discuss and demonstrate proposed use cases for Glass in healthcare. A MedTech Boston "Google Glass Challenge" event held in Cambridge, Mass., garnered an attendance of over 200 people in April 2014, all present to hear finalists pitch ideas for Glass that could change conventional medical practice.4 The Wearable Technology in Healthcare Society, an international organization, held a two-day conference in July 2014 in Indianapolis, where medical and industry professionals shared ideas and demos for healthcare apps on Glass.5