Simon M. Helfgott, MD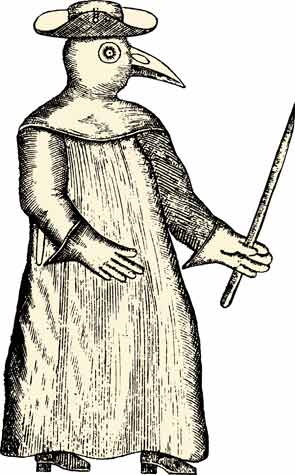 Be clean in person, well dressed, and anointed with sweet smelling unguents.
—Hippocrates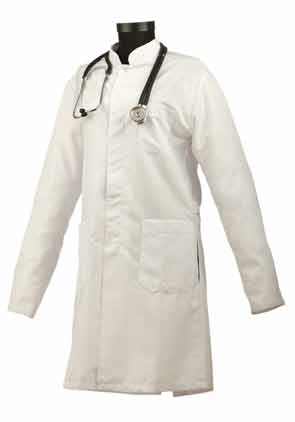 Top: A Middle Ages physician wearing a dark robe, leather gloves, boots, and a beaked mask. Bottom: A modern physician's coat and stethoscope.
A few months ago, I decided to clean out my office. For over 20 years, I had successfully avoided this grim task, but now our hospital was going to cover the cost of converting our glum, cinderblock-design workspaces full of mismatched furniture and stained carpets to something more modern and tasteful. Out with the old and in with the new.
Clearing through a pile of old letters accumulating dust in my rusting filing cabinet, I came across one that was sent to me about 25 years earlier by a former secretary who worked in our division. She told me that she had felt uncomfortable typing this letter of recommendation written on my behalf and wanted me to read its contents. Since it came in a sealed envelope, I decided not to open it, but threw it into the bottom drawer and forgot about it until now. The first half of the letter was complimentary about my work ethic and talents, but the last paragraph concluded on a somewhat dour note. The author, Dr. Y, railed at my attire, suggesting that my clothing often exceeded "the sartorial norm of our hospital."
What was he talking about? For the five years that I worked as a research fellow in a lab, my work attire consisted of a pile of clean shirts, a few pairs of faded corduroys, and a single dark blue tie, all stuffed into my work locker. This setup allowed me to run to work each day, shower, and have a fresh change of clothing waiting for me. Actually, the only day of the week when what I wore really mattered was Thursday, my clinic day. The arrangement worked exceedingly well except for one unfortunate Thursday, when I inexplicably ran out of pants and presented to clinic sporting a shirt, tie, and sweat pants. I imagine that my sartorial score plummeted that day. Fortunately, there are no online videos that recorded this fashion show for posterity.
What Doctors Wore: The Early Years
After moving from Montreal to Boston, I became acutely aware of the clothing differences between these two cities. In Montreal, the French flair dominated clothing choices. Though house officers donned the standard hospital whites, many of our attending physicians were literally dressed to kill. Natty suits and blazers for both men and women and fashionable footwear were de rigueur. Think of the standard attire of a chic Parisian and you will get the picture.